Golf is one of the only sports out there where you can still play at a high level, even at an older age. Many sports rely heavily on athleticism and natural physical gifts, but golf requires mainly skill. Whether you're a golfer who has been playing the sport for decades or a senior who recently has taken up the sport after retirement, you can find clubs designed for seniors. These golf irons are specifically designed for players who have slower swing speeds and have less strength.
In this article, we'll share the 10 best clubs for senior golfers and a buyers' guide on selecting the one right for you.
In a hurry? These are our top picks:
10 Best Clubs for Senior Golfers
Senior golf clubs are quite different from standard irons. They have unique design and construction features to aid in slow swing speeds.
Wilson SGI Men's Set – Most Budget-Friendly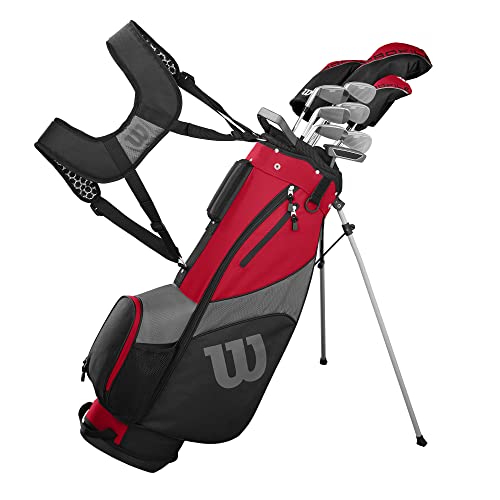 WILSON Golf Profile SGI Men's Complete Golf Set — Long, Right Hand,Red (Long)
Large 460cc Driver Engineered with Super Game Improvement technology to enhance new golfer experience
Deep, perimeter weighted 431 stainless steel irons with very low center of gravity for improved accuracy and distance
Lightweight, premium Carry bag features Air Flow adjustable shoulder straps, rugged handle top, numerous pockets and self activating stand
Easy Launch Sand Wedge features very low weighting and wide sole for better greenside control and improved shot making
Popular Heel/Toe weighted Putter with soft alignment grip provides superior feedback, feel and accuracy
MEN'S TALL - Height: 73 to 77 inches / 6'1" to 6'5" / 185 to 196 cm. Fingertip to ground measurement: 30.5 to 32.25 inches / 77 to 82 cm.
Last update on 2023-11-17 / Affiliate links / Images from Amazon Product Advertising API
Golfing can be an expensive sport, especially if you're new to the game. For beginner golfers who are just dipping their toes in the water, it's best to buy a basic set of clubs you'll actually need. The Wilson SGI Men's Complete Set is fairly basic but still offers plenty of high-tech features you'll need to enhance your game. This set comes with a driver, a hybrid, a fairway wood, 6 to 9 irons, a sand wedge, a pitching wedge, and a putter.
One of the most important irons you'll need is the driver. A 460cc driver is included with low rear weighting, enhancing your accuracy, distance, and swing speed. The fairway wood is designed with a larger clubhead face, so you can easily hit the sweet spot. In addition, the perimeter of the clubface has extra weight to improve accuracy even on off-center shots.
As a beginner golfer, it's quite common to hit the ball in the sand or gutters. The sand and pitching wedges come in handy. It has a wider sole, allowing you to control the ball on the green better to prevent hitting it in unwanted areas. Both also have a high loft angle to get you out of the rough or sand areas.
Wilson Men's and Teen Set – Most Forgiving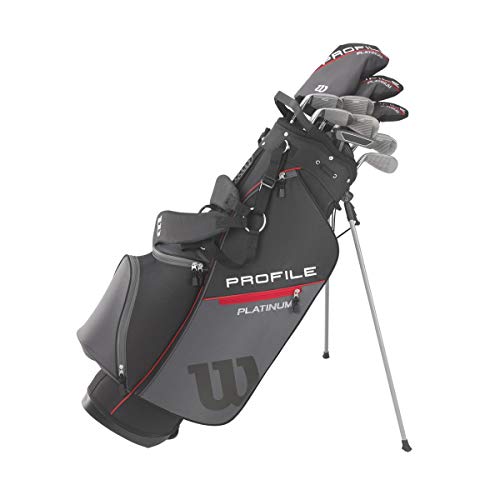 WILSON Golf Profile Platinum Package Set, Men's Right Handed, Regular Carry , Grey/Black
Wilson profile Platinum men's complete set features the industry's finest materials with Wilson's unparalleled engineering
Includes 10 clubs: Driver, 5 Wood, 5 Hybrid, 6-SW, Putter
Driver features a durable black PVD finish looks great while reducing glare
Performance technology and lightweight components are combined to deliver tremendous distance off the tee
Easy to hit hybrid with tip reinforced graphite shaft creates a large sweet spot for improved distance
Engineered for maximum control, these lower center of gravity heads improves launch trajectory and produce greater distance
Profile Platinum technology positions mass low and back - precision engineered for longer, straighter shots.
Thin, hot iron face is perimeter weighted to create large sweet spot for better shots every time, even on off center hits.
Popular Heel/Toe head shape with anti-glare finish and strong visual alignment features
Soft putter grip and offset face design improves hand position at impact, resulting in better putts
Last update on 2023-11-17 / Affiliate links / Images from Amazon Product Advertising API
The Wilson Men's and Teen set is an excellent set of easy-to-use and designed clubs for high handicappers who have slower swing speeds. This collection includes 9 essential clubs you need: the driver, 3-wood, 5-hybrid, 6-PW, and a putter. One of the biggest challenges a high handicapper faces is getting enough power and speed behind their shot. The Wilson collection comes with an oversized 460cc forged titanium composite driver with a larger sweet spot to cover for mishits. It also has a loft angle of 12 degrees helping players to get more lift on their shots.
All of the clubs offered by the Wilson set have design elements made to add forgiveness and enhance the playing experience for high handicappers. The 3-wood is another iron you can use for driving. It's made from a graphite shaft lofted at 15 degrees with a wide sole to ensure exceptional lift and long-distance. Each iron is meticulously crafted to add greater mass to the lower portion of the club. It causes more transfer of energy for betting forgiveness and higher shots. As a beginning, you'll also need a pitching wedge to get you out of trouble when needed. Pitching wedge specifically can be used when you're deep in the rough or sand.
Senior Men's Majek All-Hybrid Set – Best Hybrid Set for Seniors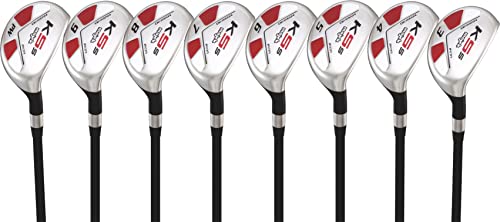 Last update on 2023-11-18 / Affiliate links / Images from Amazon Product Advertising API
Often, seniors may struggle to use the driver or fairway wood. Due to their high handicap, they may not get enough distance on their drives using a driver. As for fairway woods, seniors tend to struggle to swing them accurately because of their longer shafts. Hybrids have a shorter shaft than fairway woods and a higher launch angle than irons. These types of iron offer the best of both worlds because they add more spin, helping to launch the ball higher and land on the green much more softly. The Senior Men's Majek comes with 8 hybrids, all of which have a varying loft and shaft lengths.
All of the iron has a large sweet spot, which adds to the forgiveness for each player. A large sweet spot in the middle of the clubface makes even an imperfect swing look good. In addition, the weight of the clubface is primarily shifted to the sweet spot, making it easy for beginners to get a good shot consistently.
We also like the build of the clubs. The shafts are made of graphite, which is both durable and lightweight. Its weight allows seniors to easily swing the club more accurately, which will increase their swing speed. And they have rubber grips allowing you to apply minimal pressure while taking your swing.
Victor Men's 13 Piece Set – Best Variety
Sale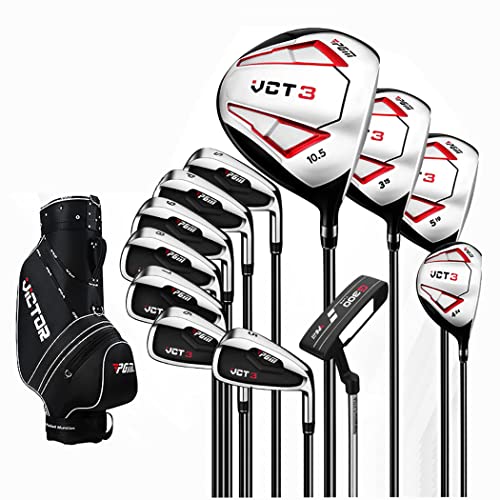 Golf Clubs Complete Set for Men 13 Piece Includes Titanium Golf Driver, 3 & #5 Fairway Woods, 4 Hybrid, 5-SW Irons, Putter and Golf Bag
Perfect golf club set to meet all your needs!!! Golf club 13pc set include: Titanium matrix Driver, #3 & #5 Fairway Woods, #4 Hybrid, #5-SW Irons, lightweight golf cart bag. The new designs have made this complete golf club set easier to hit and to improve ease of launch from any lie on the course, adding distance in the process. Shape and weight positioning leads to more forgiveness in the new complete golf club set.
[DRIVER] Additional weight placed in the heel and toe areas of the sole gives this 460cc titanium matrix driver an optimized Center of Gravity. This new perimeter weighting and the driver's new ultra-thin face improves forgiveness dramatically on off-center hits and provides a faster and higher launch off the face.
[FAIRWAY WOODS #3 & #5] The oversized, low-profile stainless steel 15- and 19-degree fairway woods come in new shapes that feature a lower CG so they are easy to hit and get the ball quickly into the air from any lie on the course.
[HYBRIDS #4] Designed to eliminate the hard-to-hit long iron, the forgiving No. 4 24-degree hybrid features an easy-to-hit stainless steel head with a low-profile design and a deeper CG. [IRONS] #5 - SW The new larger design for the distance-based irons are more heel and toe weighted and provide a lower Center of Gravity for amplified ball flights. The stainless steel, cavity back irons a large undercut cavity to produce a larger sweet spot and increased accuracy.
[PUTTERS] The anser-style putter features an easy-to-use alignment aid for accurate set up and a smooth stroke that keeps putts on line. [CART BAG] Lightweight golf bag (included with mens set) with 8 way divider top, dual, carry strap, and five zippered pockets. Deluxe cart bag (included with senior set) with 7 storage pockets including 2 large garment pockets.
Last update on 2023-11-18 / Affiliate links / Images from Amazon Product Advertising API
For the price you're paying, the Victor Complete Golf Set delivers excellent value since you're getting 13 irons designed to be used in nearly every possible situation. The golf set comes with a titanium matrix driver, #4 hybrid, #3 and #5 fairway woods, #5-SW Irons and a lightweight golf cart bag. With the weight placed on the heel and toe areas of the club, the 460cc matrix driver has an optimized center of gravity. Also, it has an ultra-thin face and perimeter weighting, which dramatically improves off-center hits. As a result, you get greater consistency in your shots and a higher launch off the face.
One of the unique aspects of the set is its answer-style putter. It has an easy-to-use alignment aid so that your shots on the green are set up accurately and in line. In addition, the head has a scale mark for accurate hitting. Their #4 hybrids also have an impressive forgiving design. It has a 24-degree loft angle and a cavity-back for a larger sweet spot and better accuracy. Lastly, the golf set comes with a handy lightweight golf bag with an 8-way divider top, a carry strap, 7 storage pockets, and 2 large garment pockets.
iDrive Senior Women's All-Hybrid Iron Set – Best for Senior Women
No products found.
Many manufacturers produce golfers for senior men, but it's quite rare to find sets made for senior women. Luckily, we found the iDrive Senior Women's Hybrid set, which has all the clubs you need for women who are 55 and older. The shafts have a lady-rated flex velocity meaning it's incredibly flexible and will provide an extra kick in the distance. Also, the shaft is made of graphite, which is lightweight and easy to swing.
Not all hybrid sets include a pitch wedge or rescue clubs. But the iDrive includes both! The rescue clubs are designed to get you out of trouble when you're stuck in the sand, bunkers, or rough. They offer a loft angle degree ranging from 19 degrees to 40-degrees. All of the iron also has an aerodynamic design to ensure less drag and a smoother swing.
Another cool aspect of these sets is that it offers premium arthritic jumbo grips. They feel extremely plush and soft so that you can easily grip the club in your swing without having to apply too much pressure. In addition, they won't hurt your wrists after a long day of golfing.
RBZ Speedlite 13-Piece Set – Most High-Tech and Premium Golf Set

TaylorMade RBZ Speedlite Complete 13-Piece Set, Graphite, Right Hand, Senior Flex
Driver: A lightweight 460cc titanium head features advanced aerodynamic shaping for faster swing speeds and is aided by an ultralight 50g RBZ shaft. Has a high MOI head design with Speed Pocket flexibility deliver optimal launch and enhanced forgiveness.
Fairway: Lightweight 180cc clubhead. Low CG encourages higher launch. Speed Pocket provides more face flex & greater performance on shots struck low on the face. Rescue: Versatile sole design for high launching shots. Lightweight construction.
Irons: Advanced perimeter weighting designed for added forgiveness; concentrated mass near sole of the club creates lower CG for higher launch. The multi-function sole geometry provides added playability from various lies and smooth turf interaction.
Wedge: High-volume grooves for improved spin & control. C-grind sole to navigate variety of conditions. Putter: High-stability mallet features patented Pure Roll. Multi-alignment technology allows for aim w/topline, sight dot, or cutaway channel.
Bag: Taking inspiration from the racing world, this lightweight cart bag is the essence of speed & style. Featuring 8 pockets, including an insulated cooling pouch, 14-way top and structured base, it's a combination of functionality and clean aesthetics.
Last update on 2023-11-18 / Affiliate links / Images from Amazon Product Advertising API
For serious senior golfers looking to take your game to the next level, the RBZ Speedlite 13-Piece Complete Golf Set is an excellent option. It's filled with high-tech features that provide explosive distance, easy launch, and max forgiveness.
The driver has a lightweight 460cc titanium head and advanced aerodynamics, and a 50g shaft designed to improve your swing speed. RBZ incorporated their proprietary Speed Pocket design to enhance forgiveness and optimal launch on most of their irons. This Speed Pocket offers more face flex, which adds distance to your shots.
The wedge utilizes a C-grind sole to better navigate your way through various conditions such as wet turf, rough sand, or bunkers. It also includes a high-volume groove for better control and improved spin. In addition, the putter has a unique high-stability mallet with their signature Pure Roll feature allowing for improved shotmaking on the greens. It also has a multi-alignment technology so that you are in line during the setup and swing. Each iron is meticulously designed for gameplay and improves your odds of performing well.
Extreme X7 Senior Men's 9-Piece Iron Set – Great for Improving distance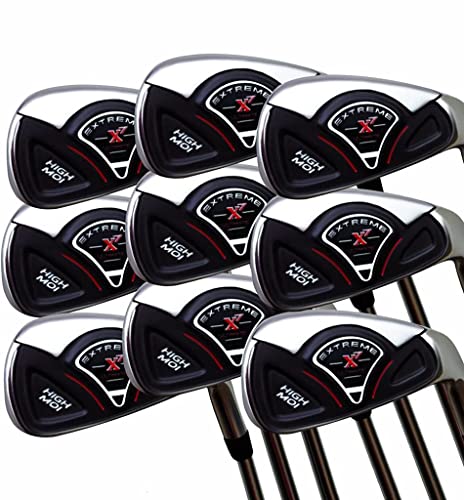 Last update on 2023-11-18 / Affiliate links / Images from Amazon Product Advertising API
For high-handicappers who struggle to get enough distance in their shots, especially on drives, the Extreme X7 9-Piece Iron Set is a great option. This set comprises all iron sets that maximize forgiveness and adds more distance to your shots.
Hybrids are an excellent choice of club to use, especially for newer golfers. They give you some of the benefits of the driver and iron while being easy to use. The irons have a unique hollow core inside of the club to better distribute the weight of the club. Its design is low-profile and shifts the center of gravity to the soles of the club for increased distance and launch on your strikes. Because of the weight distribution, the irons are much easier to control. Also, the perimeter weighting of the clubs gives senior golfers more forgiveness on the shots in case they make contact on the club too far to the left or right. Lastly, the 6-SW iron has a cavity back and oversized head to ensure that you get a larger sweet spot for additional forgiveness and distance on your shots.
Wilson Women's Complete Golf Set – Best Game-Improvement for Women
Sale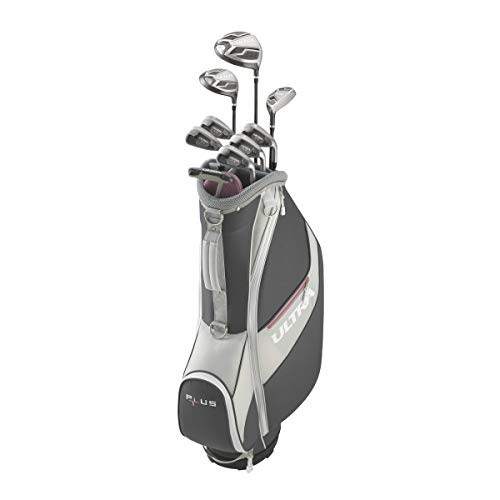 Last update on 2023-11-18 / Affiliate links / Images from Amazon Product Advertising API
For women golfers looking to improve their scores on the course, the Wilson Women's Complete Golf Set has a lightweight graphite shaft and women-sized softs with all-season grips. Its cart bag is beautifully designed with doubled-padded shoulder straps, three commodious pockets lined with fleece, and a handle-top rugged. Their driver has a large sweet spot for enhanced forgiveness and a high-lofted angle for higher ball flight. This set also features the 431 stainless steel irons with perimeter-weighted steel irons and a low center of gravity for improved accuracy.
In addition, the Wilson set comes with a useful sand wedge that is designed with a wide sole to improve your shotmaking abilities and offer better greenside control. All of the clubs have a graphite shaft, making them very flexible, lightweight, and easy to swing.
TaylorMade Kalea Complete Golf Set – Best Premium Golf Set for Women
Last update on 2023-11-18 / Affiliate links / Images from Amazon Product Advertising API
For beginners and intermediate women who want a high-quality set of golf clubs with a variety of irons to choose from, the TaylorMade Kalea provides just the collection you'll need. All of the clubs beside the driver and the putter feature ultra-lightweight graphite shafts with ladies-rated flexibility, giving you a boost in the distance on your shots. The irons also have high-quality Lamkin Sonar Lite 38g grips for easy handling.
One of our favorite irons in this set is their Spider Putter. This premium putter has a Pure Roll Insert for better greenside control and forward roll. Overall, it's very easy to line up shots and has a nice balance to it, allowing you to develop strong short game mechanics.
You also receive a driver, a 3 and 5 fairway woods, hybrids, irons, and wedges in this set. This complete set allows you to level up your game as you progress your skillset. You can start with Hybrids, and as you improve your swing, you can gradually use the fairway woods and driver. Its irons feature a sole slotted technology to cover up for off-center shots so that they remain straight and achieve long distances.
Callaway REVA Complete Golf Set – Best Overall
Sale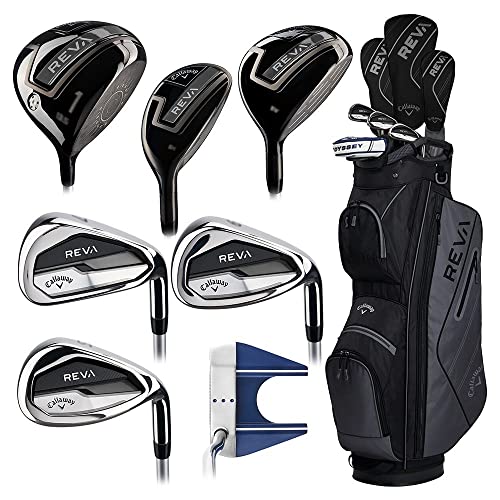 Last update on 2023-11-18 / Affiliate links / Images from Amazon Product Advertising API
After extensive research, we've found the best golf set for women is the Callaway REVA complete golf set. It comes with a driver, 5 hybrid, 5-wood, 7-iron, 9-iron, a putter, and a sand wedge. The driver is designed specifically to ensure you get great distances consistently. Its head has a legal limit of 460cc with a low center of gravity. This driver also features an impressive 12.5 or 13.5-degree loft angle, allowing you to get some lift on your drives.
If you're in the rough, the 5-hybrid is an excellent option. Its loft angle is set at 27 degrees, ideal for situations when you veer too far to the right or left and have to play in the rough. Its dynamic head allows you to easily cut through the long grass to get you back on the fairways or into the greens.
Many of the irons also have an incredibly high loft 30 and 56 degrees in loft angle. These irons also have a cavity-backed design and low center of gravity to ensure you're consistently getting an excellent spin, distance, and ball flight on your shots.
Frequently Asked Questions
How is a senior golfer different from a regular golfer?
Generally speaking, senior golfers will lose some strength and energy as they become older relative to younger players. As a result, they may not have the same swing speed and power that they used to have. But this will vary based on the person's skill level. For example, a senior golfer may choose a more flexible shaft. Accounting for slower swing speed, the shaft can bend more easily, which boosts impact to generate added distance and clubhead speed.
How do golf clubs for seniors different from a regular iron?
The biggest difference between regular iron and senior iron is the type of shaft. Both have nearly similar club head sizes and lengths. However, the primary difference is the use of graphite material in shaft material. Graphite shafts weigh between 50 to 85 grams. As a result, these lightweight shafts allow users to increase their swing speed and generally more power.
Are senior golf irons more expensive than regular ones?
Senior golf clubs tend to be slightly more expensive than regular irons. That's because the senior clubs have shafts that are made of graphite. Graphite is a material that is lightweight and easy to hold; however, it is more expensive than other materials such as steel, carbon fiber, or composite.
Things to Consider When Buying Golf Clubs for Seniors
There are many things you should account for before you decide to purchase senior golf clubs. You'll want to look out for the material and forgiveness of these features to optimize your current skill level better.
Weight
Ideally, you'll want irons that have a light club head and a shaft that weighs under 60 grams. A lighter shaft will allow you to increase your swing speed and generate more distance. In addition, it's also more comfortable to wield and will improve your timing.
Grip
The grip is often a very overlooked aspect of the club. A grip affects the positioning of the hands-on club, which may determine the amount of control you have. Ideally, you want a soft rubber grip to ensure that you won't need to apply much grip pressure to holding and swinging the club. This ensures a fluid movement on your wrists, which results in greater strength when moving the club.
Forgiveness
Forgiveness refers to the design and construction elements in the irons to reduce the effects of poor contact and bad swings. The higher handicap you are as a golfer, the more forgiveness you'll want your irons to be. Higher forgiveness ensures you'll gain consistency with your strikes and allow you to better get out of the rough or undesirable areas like the sand or gutter. Also, forgiveness will cover up some of the mistakes you make when swinging.
Loft Angle
To ensure you get the right ball flight trajectory, you want to look at the loft angle. Many seniors may struggle to get enough lift on their shots—higher loft angles angle the clubhead higher so that the ball trajectory improves. For game improvement irons, we recommend clubs that range between 11 to 15 degrees in loft angle.
Shaft Flexibility and Design
The shaft is an incredibly important aspect of an iron. You should consider the overall length and weight distribution of the shaft. A longer shaft can help with your width, power, and swing speed, while a heavier shaft that is distributed more heavily towards the grip will improve your accuracy. More flexible shafts can help beginners or seniors to build up extra power in their swing.
Club Head and Face
Most senior clubs will have a wide club head and a larger sweet spot. This increases the sweet spot and allows for mishits. There may also be other technologies such as movable weight to aid in forgiveness.
Final Thoughts
Depending on your skillset, budget, and other factors, you'll want to choose a set that fits your needs. For example, we recommend the Wilson SGI or Wilson Men's and Teen Set if you're budget-conscious. All-hybrid options are great for beginners who struggle to get consistent swings using drivers or fairway woods. We recommend getting a complete golf set with all of the types of irons, such as drivers, fairway woods, irons, putters, and wedges for those who want more variety. The best overall for women is the Callaway REVA, while the best for senior men is the RBZ-Speedlite 13-piece golf set.
We've hope you found our list of best clubs for senior golfers insightful and valuable in your process of finding the perfect golf set.
Best Clubs for Senior Golfers | Our Top 10 Picks
In this article, we'll share the 10 best clubs for senior golfers and a buyers' guide on selecting the one right for you.
Product In-Stock: InStock