Are you a golfer who struggles to perfect your golf swing form? Most golfers and their coaches will spend hours focusing on the technique of the swing without even considering whether or not they are aiming properly. By working on the alignment aspect of your stance and swing, you'll be much more confident that you are set up correctly, and you'll improve the accuracy of your shot.
In this article, we'll cover what golf alignment sticks are, how to use them and why they are useful. Let's begin!
Last update on 2023-09-11 / Affiliate links / Images from Amazon Product Advertising API
What is Alignment in Golf?
The term 'alignment' in golf refers to the feet in your set-up position and the club. A proper alignment in your stance means that your feet will be positioned along the line that is parallel-left of your target line for right-handed golfers and vice versa for left-handed golfers. In addition, the clubface must also be pointed directly down your desired target line. Poor alignment is when your clubface is pointed out either to the left or the right of your intended target line.
It's important to realize that the target line doesn't refer to the location of the cup or the middle of the fairway. Rarely will you try to hit a dead-straight shot at the final target. Instead, you'll want to compensate one way or another by choosing a target line that enables the golf ball to move through the air. There are a few reasons as to why you'd want to aim off to the side of your eventual target while setting up for your shot:
Fighting against the wind: The wind will vary on a daily or even hourly basis. The wind can blow significantly from one side to another, so it's imperative that you account for that alignment. As you improve your game and gain more experience, you'll be able to know how far to adjust your target line.
Playing a fade or draw: It's quite rare to find golf shots that fly in a completely straight line from the club to the target. More likely, you'll want to play a fade or a draw on a majority of your shots. It's best to choose a target line that accounts for the right or left movement of the ball while it is in the air.
Staying away from hazards: Of course, you want to stay away from the out-of-bounds markers or water hazards. As a result, the alignment will help to ensure you minimize the chances of hitting the ball into the lake or bunkers. By aiming a few yards away from the hazards, you'll have additional wiggle room or margin for error, which helps you avoid potential penalty strokes.
What are Golf Alignment Sticks?
Now that you have a good grasp of what the term alignment means in golf and why it's important for your game, it's time to focus on how you can improve your alignment. This is where using golf alignment sticks can be useful. Golf training aids are becoming increasingly popular, and many various golf training manufacturers are designing new tools to use.
So are golf alignment sticks useful? The short answer is yes. Golf alignment sticks are a pair of slender sticks that are placed on the ground to provide you with a visual aid as to how you need to align your clubface and body to meet your desired target line. Of course, players can't use these sticks on the course during actual tournament play, but it's great to use for practice sessions. This tool helps to train your eyes to see the proper alignment easily. Once you practice these sticks often, lining up properly on the course will be much easier.
The most popular way to use alignment sticks is by positioning them on the ground parallel to one another. One should be along your tone line, and the other will be along your target line right next to the ball. From this set-up position, you'll be able to get into the proper stance and feel what it's like to stand over the golf ball with the correct alignment. It may feel funny at first, but that's probably because you have been misaligned, and you simply haven't caught yourself.
How to Use Alignment Sticks
The beauty of alignment sticks is that there are many ways to use them. We'll cover some drills that you can do with these alignment sticks, but first, you should understand the basics.
Lay your alignment stick down, so it's pointing in the direction you want the golf ball to end up. Being one or two yards off, it's fine, but try not to be about 15 degrees off in either direction. Line up the alignment stick so that it's positioned halfway between the ball and your feet. It should also be close enough where you can square your toe and far enough to where you'll be able to see the line. As a result, it will act as a guide through the swing.
It's also not a bad idea to have your alignment stick anchored with the tees to ensure it is firmly in place. You can form a "railroad track," which is where you place two sticks and lay them parallel on the ground. The idea of this is to swing between these tracks, so you can visually see the path that you're swinging.
One sure-fire way to get the ball position right is to have your golf club perpendicular to the target line that you've set up. If you straddle the golf club and put the ball at its end, that will ensure that the ball is positioned in the middle of your stance.
Make sure that you are positioned parallel to your alignment stick, and your sticks must be parallel to the target. Continue practicing your shot with these sticks to help improve your aim and achieve consistent results.
Best Drills with Alignment Sticks
Getting the alignment sticks is one thing, but knowing how to use them and all the different ways to use them is another. Here are some drills you can implement once you've got your golf alignment sticks.
Train Tracks Drill
The most popular way to use the sticks is to place them parallel to each other.
Lay the sticks on the ground just outside the golf ball and make sure they point directly at the target.
Lay the second stick down and have it parallel to the first. Then have your toes touch it.
The "train track" that you formed helps to keep your body, clubface, and swing path aligned in the same direction.
Narrow Path Drill
From the railroad track, simply move one stick closer to the ball about 1 inch inside. In essence, one stick should be 1 inch outside the ball, and the other should be 1 inch inside the ball. This creates a narrow path for your golf club to travel down. Most beginners tend to have an outside-in swing path, which results in an unnecessary side spin.
The narrow path helps you hit golf balls that travel in the same direction as this narrow path. As a result, your swing will correct itself from an outside-in or inside-out path to one that is straight.
Ball Flight and Aim Drill
This drill primarily helps with your ball flight and aiming.
Place the alignment stick vertically into the ground about five to ten feet in front of the golf ball and down the target line.
Hit your shots at the stick.
Having a form of visual aid in front of you helps you to get comfortable with proper aiming. Next, you can utilize the stick as a ball flight gauge. Aim to hit the shots to the left or right of the stick, both drawing and fading them to the target. This helps golfers become more consistent with hitting different types of shots when it's called upon.
Lastly, you can put a second stick on the ground with varying distances to work on hitting straighter and accurate shots through a narrow target.
Swing Plane Drill
Alignment sticks should also be used to improve your swing plane and takeaway.
Place a stick into the ground at a 45-degree angle behind you. It should be about a few feet behind your back toe, not your heel.
Take some slow practice swings and feel your club traveling up and down the golf alignment sticks.
This drill helps to keep your entire swing plane and takeaway at the right angle. Many beginners tend to bring their club too far inside or outside the line. However, you want the golf club to be directly on the alignment stick.
Best Alignment Sticks in the Market
After testing and reviewing many of the most popular alignment sticks out there, we've come up with our top 3 picks:
Shaun Webb Golf Alignment Sticks
Shaun WEBB PGA Golf Alignment Sticks (Pack of 3 Golf Sticks) Swing with Confidence and Accurately. Instant Feedback - Improve Your Swing - Align Your Body, Balls & Club. Golf Training Sticks for Men
IMPROVE YOUR ALIGNMENT & POSTURE - These golf alignment stick are designed to keep your shoulders properly aligned with your feet and hips, making it easier for you to get the ball to land closer to your target.
STORES EASILY IN YOUR GOLF BAG - Don't want to carry too much stuff while you play or practice? Each pack comes with 3 golf aiming stick that measure 48 1/4 inch each, fitting perfectly inside your golf bag.
HASSLE-FREE CARRYING - Unlike other golf alignment rods out there, these come with a clear storage tube where you can stow away your alignment sticks golf while traveling or when they are not in use.
IMPROVE YOUR SET-UPS, SWINGS & PUTTS - Want to be better at the game? These alignment stick golf training ensure consistent pre-swing setups and proper swing mechanics that will help shave strokes off your score. Enjoy your golf sticks alignment
WE ENCOURAGE YOU BECOME BETTER GOLFER - If this golf alignment sticks 3 pack fail to make you a better golfer, let us know right away so we can make it right for you.
Last update on 2023-09-12 / Affiliate links / Images from Amazon Product Advertising API
The Shaun Webb alignment sticks are one of the most reputable ones in the market. Each pack comes in three rods and is measured at 48.5" each. It's perfectly straight, which provides an excellent long visual cue when you're trying to improve your swing and see the swing path. Over time, you'll improve your swing plane and swing path.
In addition, the product comes with a clear plastic carrying case and a storage tube, so you can easily stow your sticks away. These alignment sticks are the perfect training aid to use on the driving range.
Orange Golf Alignment Sticks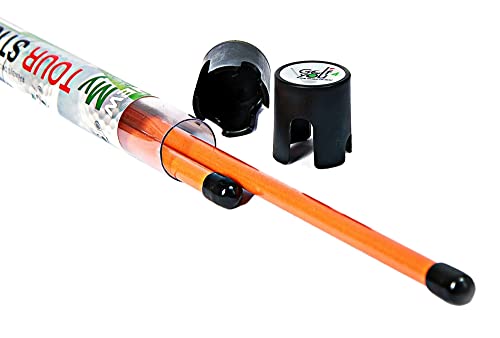 Golf Sticks Alignment Golf Training Aid - Set of 2 Orange Golf Alignment Rods + Includes 2 Sticks Connectors | Unique Size 38" | an Essential Multifunctional Golf Accessories - Best Value for Money
✅ Set of 2 golf training sticks made of ultra-resistant fiberglass, comes in a transparent plastic carrying tube. The new improved design of my tour sticks makes it more practical and manageable than the other longer models
✅ Immediate Improvement- Master your golf game with perfect alignment every time, these golf alignment sticks are designed to set a benchmark on your positioning during your putts, your swings and on many other key positions
✅ You will be able to perfectly control your golf setup position. If you are looking for both economical and effective golf training tool, you've finally found it! Rather than taking expensive golf lessons, use these golf practice sticks to intuitively up your overall game
✅ Crossing Plug, Comes with 2 ingenious removable CONNECTORS, double as a 90° connector that make setting up a target line and ball position a breeze. Lightweight and portable, they will easily find their place in your golf bag
✅【Quality Guaranteed 】High quality golfing equipment that is strong, and made to last
Last update on 2023-09-12 / Affiliate links / Images from Amazon Product Advertising API
Although the Orange brand is primarily known for thor weighted club training, their golf alignment sticks are top tier. These sticks are made of ultra-resistant lightweight fiberglass that is particularly 38" long. Although it is slightly shorter than other brands, it is easier to store in smaller golf bags.
One of the unique aspects of the Orange alignment sticks is their connector. It comes with two connectors on the alignment sticks to enable users to set the sticks up at a 90-degree angle for shoulder and body alignment to the target line. This 90-degree angle helps to ensure that your shoulders, hips, and feet are fully aligned along with your swing plane and ball position.
SKLZ Golf Alignment Sticks
SKLZ Golf Alignment Sticks Training Aid with 3 Sticks
Three durable, 48-inch fiberglass rods for developing consistent alignment and proper swing mechanics
Creates a consistent alignment routine during pre-swing setup
Each rod features 9 rings for precise setup, ball alignment and ball- striking
Versatile training tool – use for full swing, short game, putting and set-up
Rubber safety cap on one end; pointed on the other end to easily stick into the ground
Last update on 2023-09-12 / Affiliate links / Images from Amazon Product Advertising API

Besides improving your swing plane, the SKLZ golf alignment sticks further enhance your game by improving your ball set-up. Positioning your ball correctly in relation to your stance and swing is another key component of your golf set-up.
The SKLZ sticks feature three 48-inch fiberglass sticks with a rubber cap and nine rings designed to improve the ball alignment and ball-striking. One end of the stick can easily stick into the ground, while the other end has a rubber safety cap. Given its design, length, and rings, this is a versatile training tool that can be used to help improve all facets of your face, such as a short game, full swing, set up, and putting.
Final Thoughts
There you have it, now you know the importance of golf alignment sticks, how to use them, and which ones are the best! When it comes to any sport, especially golf, there's always room for improvement. In fact, even professionals like Tiger Woods use them during their practice sessions. Alignment sticks will help you have a solid foundation for a proper swing. As a result, you should see your performance drastically improve!