The likes that the Pro V1 gets are so immense; hence, it's very overrated. However, some of the best golfers would be given a variety of options for golf balls to play with, and without a doubt, they'd choose the Titleist Pro V1.
It's no secret that Titleist Golf is one of the brands that produce the best golf balls, ensuring durability and quality. And if you want more control over your ball's spin and a more consistent flight, then the Pro V1 is ideal for you.
As every golf enthusiast knows, when the Titleist Pro V1 was launched, it was one of the most revolutionary products in golf equipment history. Currently, there is a wide range of options for the best golf balls to play with. Some of the top golf balls advancing to the list of overall best golf balls include Pro V1x, TP5, Chrome Soft, Tour B XS, etc. But the list isn't only limited to those top-tier brands, as other brands are stepping up their game.
However, throughout the years of the Pro V1 being one of the top on the list, it has been deemed expensive. Some would say it's not worth the price, and some would say it's not worth "just" a golf ball. But for an old-stager, it's cost-effective.
You see, it might seem pricey for just a golf ball. You may say you can just purchase from other brands where it is much cheaper. But the quality that the Titleist Pro V1 offers is incomparable.
The construction, cover, durability, performance, quality, aerodynamic design, and even control over the spin are matchless. None of these build qualities you can find on other highly purchased golf balls on the market. And that gives value to the Titleist Pro V1, making it a premium one.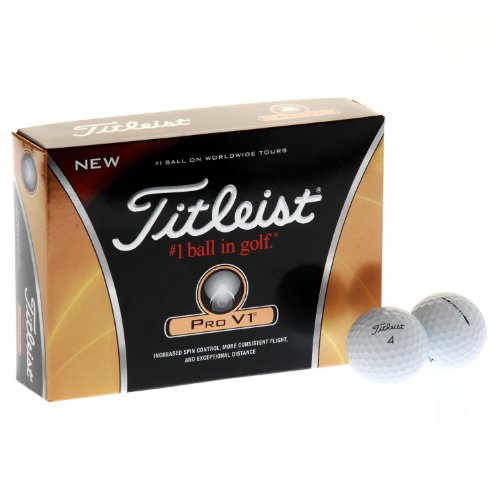 Titleist Pro V1 Golf Balls (One Dozen)
Increased spin control, more consistent flight, and exceptional distance
Drop-And-Stop greenside control
Very soft feel on all shots
Excellent durability
Tour-proven: The #1 ball on worldwide tours
Last update on 2023-09-15 / Affiliate links / Images from Amazon Product Advertising API
3 Things You Need to Know About the Titleist Pro V1
The Pro V1 is the perfect ball for any golfer of every level. It combines high quality and a bargain price to offer you an unbeatable deal on your golf balls!
The Pro V1 has a longer distance with a more controlled spin.
The combination of speed, spin, and feel is the edge of the Pro V1 over other high-end balls. Thanks to the high-flex casing layer included on the ball, it now has a longer distance, a more constant flight, and gives low long game spin, providing excellent performance for any golfer bringing their best to the game.
One of the best upgrades to the Titleist Pro V1 in its 2021 version is its aerodynamic technology. The 2021 design of the Pro V1 offers a premium build to provide all golfers with absolute performance. In addition, with its advanced urethane cover, you now have better control of the greenside spin and more durability.
Golf Monthly mentioned in their discussion of the enhancement that the Pro V1 has increased dimple count to 388, which delivers more distance and is the best fit for most golfers' trajectory options. In addition, the process core has been reformulated as well, optimizing the ball's flight and maximizing its distance. As a result, the New Pro V1 has a softer feel and faster speed, perfect for long-distance shots. And higher accuracy, perfect in the short game.
Pro V1 Is Worth The Money
Many golf enthusiasts around the world give off comments about the Titleist Pro V1 being "expensive." Some even say they could get a double dozen from other brands and that it wouldn't hurt their pocket if they lost some. Well, one thing that we should focus on when choosing the right bullet is quality. The Pro V1 comprises distinctive layers, design, and aerodynamic technologies, all of which are still in the process of improvement by other brands.
The Titleist Pro V1 is a game-changing golf ball. It's not just for professionals, but also for amateurs and beginners who want to improve their skills without breaking the bank on equipment they don't need yet.
You can take your game to the next level with the Pro V1.
In the last 20 years, the Pro V1 has been used to win countless PGA Tour & European Tour events, as well as major championships. As a golf fan, you'd surely want to step up your game and see yourself playing in events as mentioned. Maybe improve shot accuracy or control distance and spin. Well, with the Pro V1, it's not hard to catch those up.
Playing with pro equipment feels like playing like a pro. With the Pro V1's advanced construction, you'll be able to experience the best short game as you'll get to have control. It is best for starters who are up for some extra swings. Since it is designed for maximum distance, it's great to practice executing shots to see better how well you could score. The Pro V1 has more advanced features than others, so it's advantageous if you want to step up your game.
Are Pro V1 Worth the Money – Wrapping Things Up
Yes! The Titleist Pro V1 is definitely worth the money. You are not spending money on just a regular golf ball; you're spending money on a premium one. One that precisely what the Pro V1 can offer is total performance. Some golfers have recommended this high-performance equipment for a long time, and it truly is worth the value.
Multiple tests were done, and still, issues were nowhere to come across. All other premium equivalents are far enough to be close to even one feature the Pro V1 has.
It's ideal, especially in the summer. Other premium balls may perform well, but surely nothing can replace the Titleist Pro V1 in your bag. So again, is it worth it? In a word, YES! You get what you pay for.