More people are starting to play golf at a younger age. Rather than sitting at home and playing video games, parents get their children to take up golf. It also doesn't take incredible physical athleticism as many sports do.
However, most parents are uncertain about which club they should get for their children. In this article, we'll cover the best golf clubs for teens and what factors to consider when you're doing your research.
In a hurry? These are our top picks.
6 Best Golf Clubs For Teens
More golf manufacturers are producing sets for teens. However, without many reviews out there, it can be difficult to know which ones are good and which aren't. We've scoured throughout the market, tested them, and found 6 of the best golf clubs for teens.
Wilson Golf Platinum Package – Great for Teens of All Skill Levels
Last update on 2022-01-07 / Affiliate links / Images from Amazon Product Advertising API
Choosing a golf club for a teenager can be tough because your child likely hasn't yet developed a specific playing style. Not to mention, their swing speed and body size could change significantly in a matter of months or a year.
The Wilson Men's and Teen golf set strikes the perfect balance between advanced technology and quality. This makes it great for teenagers of all skill levels. It includes all of the clubs your kid will need, such as a driver, irons, a hybrid, wedge, and putter.
We like that the wedge has a weighted sole which gives you more control on the greens. As a result, you should see improved accuracy. In addition, the additional weight promotes good mechanics for your child.
Wilson's golf set also incorporates advanced technology similar to features that you'd find in an adult set. For example, the irons have a cavity back and are made with stainless steel to help teens deliver precise, longer, and straighter shots.
Wilson Juniors Complete Golf Set – Best Starter Set for Juniors
Sale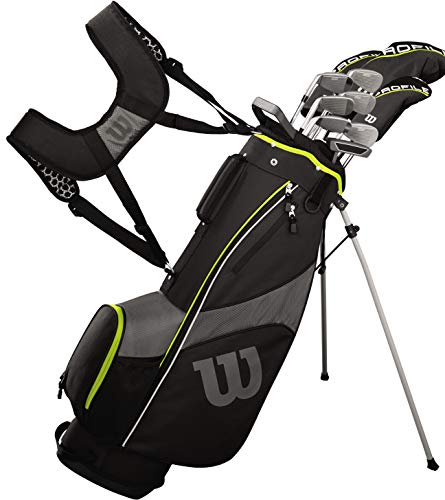 Last update on 2022-01-07 / Affiliate links / Images from Amazon Product Advertising API
The Wilson Juniors Complete Golf Set is best designed for children ages 11 to 14 looking to improve their swing speeds and golf mechanics. Each club is designed to be more bottom-heavy, which creates a lower center of gravity. As a result, this produces exceptionally high shots off the tee and fairway.
In addition, the two woods that Wilson Junior's set offers have a low-profile sole that is rounder and flatter than usual. This keeps the club close to the ground and prevents juniors from accidentally topping the golf ball.
The irons in the set are perimeter-weighted cavity-backed, enabling a more solid contact during impact. There are two irons included: a long and short iron, which provides a great introduction to the game for juniors.
Also, you get a blade-style putter along with soft inserts on the clubface, which provides smooth rolling on the greens. The wedge has a graphite shaft and high loft angle to help hit high trajectory shots and land softly.
Tour Edge Golf Varsity Bazooka 370 Teen Starter Set-LH – Best for Game Improvement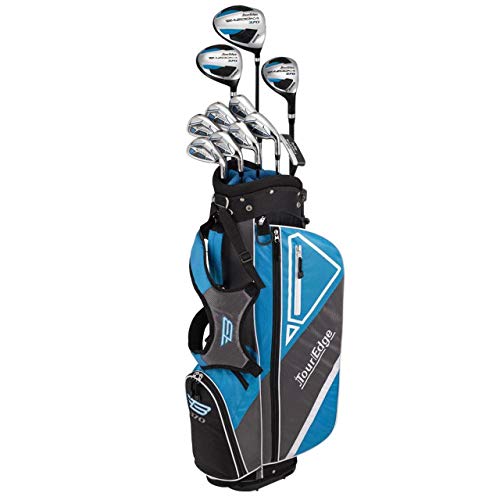 Last update on 2022-01-07 / Affiliate links / Images from Amazon Product Advertising API
When it comes to improving your game, you'll be hard-pressed to find a golf set better than the Tour Edge Bazooka 379 Teen Starter Set. They offer all of the clubs a teen would need to learn the game of golf, such as a driver, a #3 fairway wood, #4 hybrid, #5 through #9 iron, a pitching wedge, a sand wedge, and putter. In addition, it comes with head covers to protect your clubs and a stand bag for transport.
What separates the Tour Edge set from others is its advanced technology designed to help golfers take their game to the next level. The driver has an oversized 460 cc head which maximizes forgiveness for off-center hits for straighter and longer drives.
In addition, many of the clubs, including the fairway wood and hybrids, have a low profile design and low center of gravity, allowing the ball to get up in the air quickly and much higher. Any beginner knows the difficulty in hitting the ball accurately, especially since it requires hitting the ball right in the sweet spot. The irons in the set have a deep undercut cavity for a larger sweet spot. This provides golfers a bigger target to hit the ball with.
PreciseGolf Co. Precise X7 Junior Complete Golf Club Set – Best Set for Children
Sale
Distinctive Right Handed Junior Golf Club Set for Age 6 to 8 (Height 3'8" to 4'4") Set Includes: Driver (15"), Hybrid Wood (22*), 2 Irons, Putter, Bonus Stand Bag & 2 Headcovers
Right Handed Junior Set Includes: Driver (15"), Hybrid Wood (22), #6/7 Irons(1 piece), #9/p Iron (1 piece), Putter, Bonus Stand Bag and 2 Headcovers
Height: 3'8'' to 4'4''
Graphite shaft for Woods and iron, junior flex
Ergonomical lift handle for easy Use
Designed for Juniors to improve distance and accuracy
Last update on 2022-01-07 / Affiliate links / Images from Amazon Product Advertising API
It's never too late to teach your son or daughter how to play golf. The PreciseGolf Co. Precise X7 Junior Complete Set is best suited for children between the ages of 3 and 12. The set includes five essential clubs to help your child get acquainted with the game without overwhelming them. PreciseGolfCo offers a few variations of their Junior set to suit your child's age, including clubs for ages 3 to 5, 6 to 8, and 9 to 12.
We like that the club features graphite shafts because they can help your child achieve the maximum distance due to their flex and lightweight attributes. The driver in the set has a very large sweet spot and an extremely generous loft of 15 degrees. This helps your child to hit the ball straight and farther off the tee.
The irons include a #6 and #7 iron along with a pitching wedge. They are designed with perimeter weighting for off-center hits. Having clubs that are forgiving is essential to building the confidence of any young golfer. Lastly, we have the putter. The putter has a mallet design along with an aligned face to help with your aim and stroke. For those who struggle to put the ball in the hole, mallet putters will significantly improve your game. It has a larger head to aid in golfers hitting the ball directly in the center. In addition, it has added weight to the club head to prevent the putter from twisting during your stroke.
Wilson Men's and Teen Complete Golf Set – Best Premium Golf Set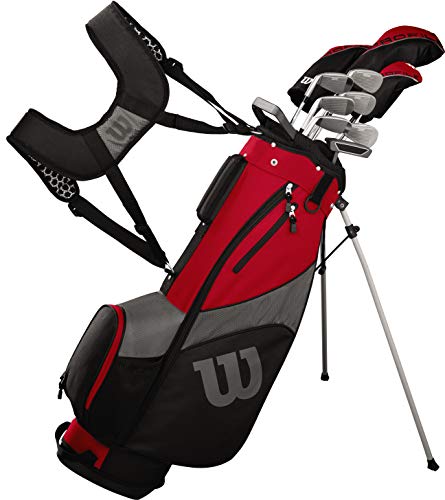 Wilson Golf Profile SGI Men's Complete Golf Set — Regular, Right Hand,Red (Regular)
Designed for teen swing characteristics to produce maximum distance and a rewarding experience for beginners
Large 460cc driver engineered with super game improvement technology to enhance new golfer experience
Deep, perimeter weighted 431 stainless steel irons with very low center of gravity for improved accuracy and distance
Lightweight, premium Carry bag features Air Flow shoulder straps are adjustable for growing teen players, rugged handle top, numerous pockets and self-activating stand
Easy Launch Sand Wedge features very low weighting and wide sole for better greenside control and improved shot making
Last update on 2022-01-07 / Affiliate links / Images from Amazon Product Advertising API
Brand recognition is a huge component of choosing a golf set. The Wilson brand has devoted plenty of resources to its R&D to help golfers of all ages. It has the perfect composition for teens to learn how to use each type of club. The driver features an oversized head with a large sweet spot to help with off-center hits. Getting good distance and accuracy is a huge sticking point for teens when it comes to the irons. That's why the irons have a low center of gravity along with a graphite shaft to maximize your performance.
Learning how to improve your shot-making can be incredibly tedious, especially in unfavorable situations. The Wilson set has an Easy Launch Sand Wedge, which features a wide sole for better greenside control and helps you get out of the sand or bunkers quickly.
Teenagers also tend to struggle with using long irons. However, the Wilson set offers a #5 hybrid to help bridge the gap between irons and woods. It has a generous loft of degree and a shallow face to efficiently help young golfers navigate the fairway.
Stephen – Lady Talia Pink Right Hand 7 Pieces Golf Clubs Set – Best for Young Ladies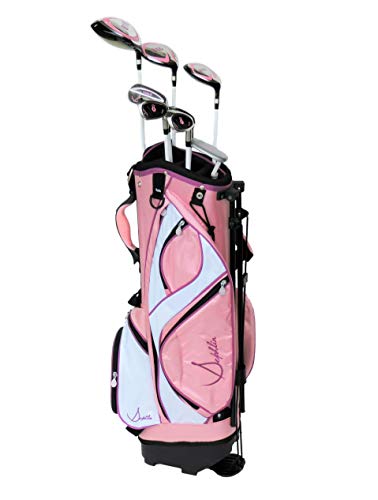 Sephlin - Lady Talia Pink Right Hand 7 Pieces Golf Clubs Set and Golf Bag Ages 10-14
Titanium Matrix Driver, 430cc, Light-weight...Right Handed...13 Pieces Package
100% Graphite Shaft...Pink and White Shafts
7 Pieces Golf Clubs..1 Titanium Matrix Driver...2 Stainless Steel Fairway Wood...3 Irons...1 Putter
Monogram Name and Team Logo on Golf Bag Removable Front Pocket (30" Bag Included for Limited Time)
Sand Wedge...Putter...Iron...4 Head Covers for Woods and Putter...Rain cover
Last update on 2022-01-07 / Affiliate links / Images from Amazon Product Advertising API
Unfortunately, there aren't many golf sets that are made specifically for young ladies. However, the Sephlin Lady Talia set is the perfect starter set for teenage women. They include all of the essential clubs you'll need, such as a titanium matrix driver, #3 irons, a fairway wood, putter, and sand wedge. All of the clubs and a stand bag have a stylish pink and white design, and customers can choose to customize the bag with a team logo or monogram name.
The driver is made of a titanium matrix which provides a greater distance off the tee. Since the material is so durable and the face is thinner than usual, this adds more propulsion on the ball and flexibility similar to a trampoline effect.
Most starter golf club sets leave out key clubs such as the sand wedge. Learning how to use a sand wedge can help you save yourself when you're stuck in a sand trap. Particularly the sand wedge in the Sephlin set has a high loft which generates plenty of spin and bounce. In addition, these sand wedges are versatile enough to use on the green for chips and pitches.
What to Look for When Purchasing a Golf Set for Teens
When we say teens, we mean children that are at least 12 years or older. When selecting junior golf clubs, there are so many options available that it can sometimes feel overwhelming. We'll break down all of the factors you should consider.
Grip
The grip is one of the first things you should consider when getting a golf club. Since the grip is the only point of contact between the player and the club, it should be extremely comfortable to hold. The grip size should fit their hands, and the grip type is usually a matter of personal preference.
There are four main types of golf grips to consider: rubber, corded, synthetic, and wrap golf grips. Rubber offers great feedback and feels on your swings. However, if they're too soft, it may require the golfer to grip the club harder. Corded grips are built with a cord material and designed for individuals with sweaty hands or wet conditions. The downside to these grips is that they may feel a little too rough on your hands.
Synthetic materials are a combination between rubber and corded grips. You get the responsiveness and feel of a rubber grip and the control of a corded grip, even in wet conditions. Wrap golf grips have a soft feel along with a tacky touch. The downside is that they aren't durable, and they don't perform well in wet conditions.
Shaft
There are many components to having the right shaft for your teen's clubs. A driver with a stiff shaft will cause low peak heights, too little spin, and low launch. A shaft with too much flexibility has made the ball fly too high and has widened dispersion patterns. Generally speaking, you should go with a more flexible shaft and lighter material.
In addition, the length of the shaft changes how the club feels during the swing. A shaft that is too long causes an inconsistent strike on the face. We recommend a shorter shaft for teens to help them develop a consistent strike pattern. Your teen's swing speed, ball flight, consistency, arm length, and physical size all play a role in the right shaft.
Junior Skill Level, Size, and Strength
Remember that you should ideally look for beginner sets. Whether your child is a beginner or intermediate golfer, it's important to look for clubs with a lot of forgiveness. For example, the driver should have an oversized head, and the clubs should be weighted towards the bottom.
The size or appearance of the clubs is also a crucial element for teens. They should feel comfortable when looking down at their club because that helps them achieve confidence in their swing. All of the clubs should be lightweight so that they can have a faster swing speed.
Forgiveness
It's common for teens and new golfers to hit the ball off-centered on their club. Developing consistency and accuracy in shots takes a lot of practice. However, you can help aid your child's performance and boost their confidence by purchasing a club set with plenty of forgiveness. A forgiving club delivers accurate and great distance even on poorly struck shots.
Common features of a forgiving club entail large hitting areas and perimeter weighting. The perimeter weighting helps with balls that are struck toward the toe or heel of the club and minimizes the loss of distance.
Final Verdict
It's important to remember where the teenage years in your child's life are filled with many transitions. That means that most of the clubs you choose may be transitional, especially if they experience many changes to their body measurements. However, some brands offer more diverse clubs, in which they can be a longer-term fixture.
Having the right golf clubs can aid in helping your child learn the game quicker and develop the right mechanics to succeed. Now that you know the best golf clubs for teens and what to look for, you're ready to hit the course with your child! Before you know it, they'll be flying balls on the course in no time.
Best Golf Clubs for Teens | Our Top 6 Picks
However, most parents are uncertain about which club they should get for their children. In this article, we'll cover the best golf clubs for teens and what factors to consider when you're doing your research.
Product In-Stock: InStock