The putter can easily make or break around. Missing a three-foot shot can be the most nerve-racking and frustrating experience in golf. If it takes you two shots to get to the greens but three shots to score, you turned your great start into an average round. However, the opposite can be true as well.
The putter is the most used club in the golf bag, but most golfers don't spend the time to learn which putter is best for their stroke and needs. Here we'll discuss the best putter for arc stroke and a buyer's guide to finding the right putter for you.
In a hurry? These are our top 5 picks:
What is an Arc Stroke?
The arc stroke is a more difficult style of stroke compared to the straight-through style. With an arc stroke, the goal is to move the putter head on an arc.
Instead of moving the putter on a straight line, an arc swing follows an in-to-in path, which creates an arc around the target line. This enables golfers to naturally mimic the motions of their full golf swing with their putting stroke.
Many people believe the arc stroke provides better distance control, especially for longer putt shots. It also prevents the putt from swinging too far to the right.
So who is the arc stroke for?
If you struggle with the standard straight-back straight-through stroke, it may be because you're right-hand dominant. In addition, golfers who struggle to keep the face of the putter square on the forward stroke may also benefit from the arc swing. Lastly, if you struggle with accuracy on longer putts because you exert a lot of your effort to get the distance, consider switching to the arc stroke instead.
We've compiled the best putters available for the arc stroke.
Best Putter for Arc Stroke in the Market
S7K Standing Putter – Best for Alignment
Sale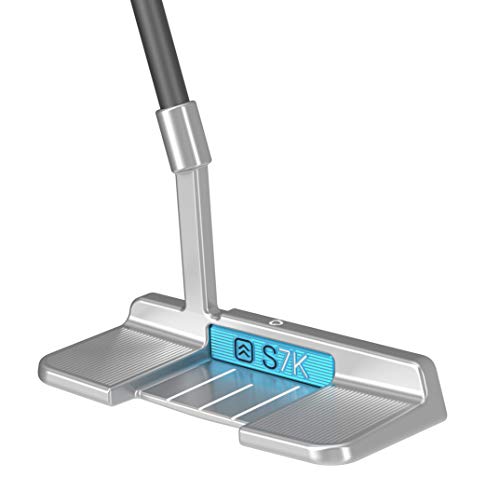 S7K Standing Putter for Men and Women –Stand Up Golf Putter for Perfect Alignment –Legal for Tournament Play –Eliminate 3-Putts (Right)
NEVER MISS ANOTHER EASY PUTT; Stop missing putts from 10 feet and in; Drain more putts for birdie and par; Lag it close from long distance and hole pressure putts like a seasoned pro
TRUST YOUR LINE EVERY TIME; No guesswork lining up your shots; Check your aim from behind the ball and down the line and watch your ball roll on line every time; The S7K fixes your aim so all you have to think about speed; Trust your line and make a confident stroke
NO PRACTICE, INSTANT HELP; The S7K putter is so easy to use - just line it up, step back, adjust the aim and putt; Save 5 strokes or more the very first time you use it; The S7K eliminates 3-putts and helps you shoot lower scores fast
EXCEPTIONAL FEEL, BALANCE & ROLL: The S7K's ultra-light grip and shaft transfer tons of feedback to your hands, enhancing your speed and distance control; You will enjoy a buttery feel and sweet sound at impact, plus the best sound of all, the sound of the ball dropping in the cup; The S7K practically swings itself and rolls pure; Never miss another easy putt inside 10 feet
LEGAL FOR TOURNAMENT PLAY & 1-YEAR MANUFACTURER WARRANTY; High-quality construction backed by unbeatable one-year manufacturer warranty against defects
Last update on 2023-11-27 / Affiliate links / Images from Amazon Product Advertising API
The S7K standing putter is known as a 'stand-alone' putter where you can stand it straight on its own, which allows you to check for alignment.
Another unique feature is the weighting of the S7K standing putter. The grip and the shaft weigh under 5p grams making it one of the lightest putters in the market. S7K standing putter has a stroke-balance construction, which encourages better acceleration through impact.
There's even a striking dot so that you can focus your eyes on the point where the face touches the ball. This ensures that you continuously hit solid putts. Overall, we believe the S7K standing putter is one of the best game improvement putters in the market.
Odyssey OG Putter – Best Shaft
Sale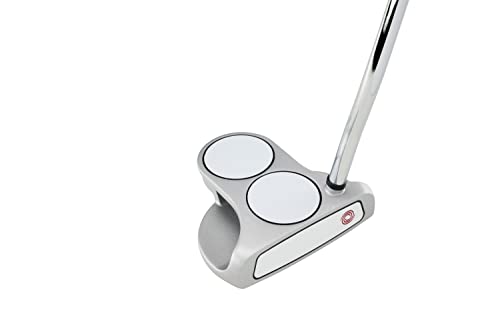 Odyssey Golf White Hot OG Putter (Right-Handed, 2 Ball, Steel, 35') , Silver
Odyssey White Hot OG Putters feature the original White Hot formulation, feel, sound and performance in one exceptional two-part urethane insert.
This classic name is synonymous with legendary performance and the unique design properties that Tour players and golfers love.
Odyssey engineers have combined a rich silver PVD finish with fine milling on the surfaces.
Available in a premium stepless steel shaft or our Tour proven, multi-material Stroke Lab shaft in a new candy apple red.
Both of these stock options are precisely fitted with a gray DFX Rubber Grip for a classic look and feel.
Last update on 2023-11-26 / Affiliate links / Images from Amazon Product Advertising API
The Odyssey OG putter brings back the White Hot insert specifically designed for arc strokes and adding more rotation into your strokes. So what's so special about the white-hot inserts? The OG putter uses a two-layer white hot insert that is firm on the touch but will soften up based on the impact of the ball. As a result, you're more likely to get the ball rolling to exactly where you want it to be.
In addition, users can choose the Stroke Lab shaft. This shaft has been reconfigured so that it's much lighter, weighing about seven grams less. As a result, you'll see an improvement in your face impact consistency, swing arc, and tempo.
Odyssey Ten Putter – Most Sleek Design
Sale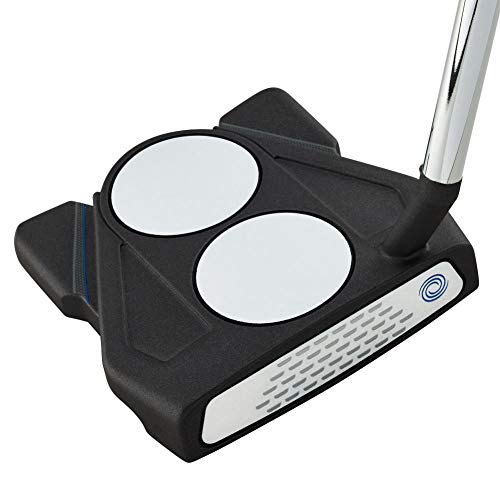 Callaway Odyssey Golf 2021 Ten Putter (Right-Handed, 2 Ball, Oversized Grip, 35") , Black
The new Odyssey Ten Putters dramatically enhance the Ten shape that's incredibly popular on Tour and with golfers.
These new shapes are sleeker, more forgiving, and now you can choose from impressive options in 2-Ball or Triple Track to help improve your alignment.
In fact, this is Odysseys' best 2-Ball shape ever.
Odyssey's proprietary major-winning, multi-material Stroke Lab shaft is now even better. This shaft is seven grams lighter overall, it's stiffer and it's more stable to enhance consistency in your putting stroke.
This high-performance insert is packed with Microhinge technology, promoting immediate forward roll for improved speed and control.
Last update on 2023-11-26 / Affiliate links / Images from Amazon Product Advertising API
The Odyssey Ten Putter demonstrates some of the best alignment systems in the market. Their Triple Stack and 2-Ball head construction is more forgiving and sleeker than many of the other Odyssey models.
In addition, this putter features a micro hinge star insert, which encourages forward roll for improved control and speed. Similar to the Odyssey OG putter, the Ten Putter also incorporates the Stroke Lab shaft. The shaft is seven grams lighter than a steel shaft and much stiffer. Its construction is designed to enhance the consistency and tempo of the putting stroke.
TaylorMade Spider EX Putter – Best for Topspin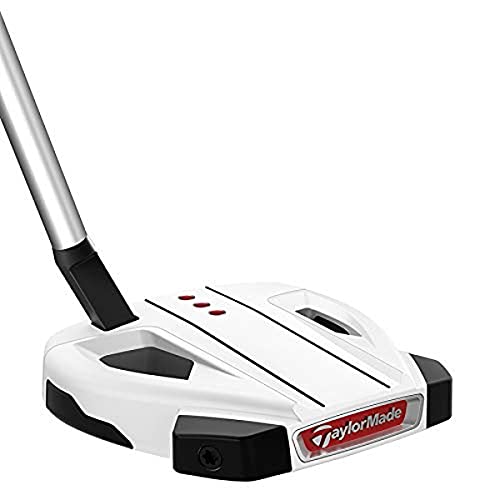 TaylorMade Spider EX Putter Right Hand Steel White Short Slant (#3) 35"
Fluted Feel Shaft. A newly engineered putter shaft with a softer section located 5" from the tip, intently designed to enhance feel, increase stability and tighten dispersion.
White True Path. The science of white. White is the most reflective color, which allows the human eye to clearly see the path of the stroke and the ball.
The use of a combination of multi-materials like heavy tungsten in the back weights creates a deep CG for better distance control. Lightweight aluminum and composite create better performance advantages around the circumference of the head.
Co-Molded Pure Roll 2 Insert. The first co-molded insert manufactured of white TPU urethane with silver aluminum beams at a 45° angle designed to produce better roll and feel characteristics.
Tungsten Back Weights - 20g, 25g and 30g tungsten back weights (2 per head) support the deep CG and stability. Steel Side Weights-28g (2 per frame/56g) of steel is strategically placed around the circumference of the lightweight frame for increased MOI.
Last update on 2023-11-26 / Affiliate links / Images from Amazon Product Advertising API
Many tour-level players have switched their blade putters to a more mallet and MOI-style putter like the TaylorMade Spider EX.
Since the body is lightweight, there is 56g of steel that is split between the back wings and tungsten. This additional weight positioned on the outer edges of the putter adds stability to your performance.
To help keep the ball aligned to the face, the Spider EX offers True Path Alignment lines with reflective white color to add visibility to the path of the ball and the stroke. This EX putter also features their Pure Roll technology, which is designed with eight co-molded grooves for enhanced roll and topspin.
Cobra King 3D Printed Putter – Best for Tracking Performance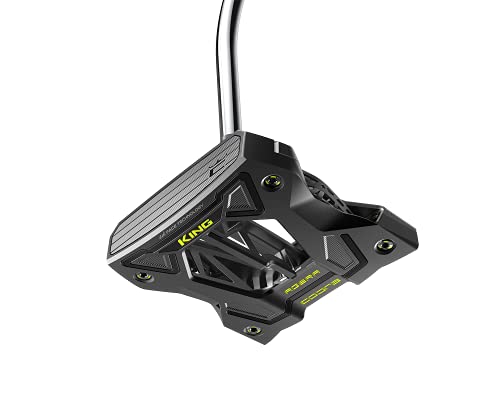 Cobra Golf 2021 King 3D Printed Agera Putter (Men's Right Hand 35 Inch) Black
3D Printed Nylon Insert-An intricate 3D printed nylon lattice structure optimizes the weight distribution within the putter head to create the highest MOI possible in a blade shape for maximum stability
Multi Material Construction-An Oversize blade shape combines 3D printed nylon lattice insert, a 284g steel frame, a 22g aluminum cap, and 30g of tungsten in the heel and toe to provide the highest MOI for maximum stability
Sik Aluminum Face Insert-An aluminum face insert features SIK Golf proprietary Descending Loft Technology, which utilizes 4 descending lofts to ensure the most consistent and accurate roll for every style of putting stroke
Cobra Connect Grip-Each Putter is equipped with a Lamkin Smart Grip which features and embedded sensor that syncs to your smart device, Using Arcos Caddie app, users can track their putting stats and improve faster
Last update on 2023-11-27 / Affiliate links / Images from Amazon Product Advertising API
When it comes to consistency and game improvement, you'll be hard-pressed to find a better option than the Cobra King 3D Printed Putter.
One of the unique features of the Cobra King is its smart Cobra Connect grip. It has a built-in sensor inside of the grip that syncs to your mobile device. With the Arcos Caddie app, you'll be able to visually see your performance and stats over time, allowing you to make improvements.
It also features a Sik aluminum face insert with proprietary loft technology, which uses 4 descending lofts. The idea is that you'll get a more accurate and consistent roll on every stroke.
Titleist Scotty Cameron Special Select Blade Putter – Most Forgiving Blade Putter
Last update on 2023-11-26 / Affiliate links / Images from Amazon Product Advertising API
The Titleist Scotty Blade Putter is one of the more forgiving putters, especially with a blade design. It features a performance balance weighting made to stretch out the sweet spot further out and increase forgiveness. As a player, you can afford to have mishits and still get the ball in the path to where you're trying to go.
The sole of the putter uses a soft-Tri sole which has amazing balance and will effortlessly sit behind the ball. As a result, you'll experience an increased instability.
Cleveland Frontline 4.0 Putter – Best for Accuracy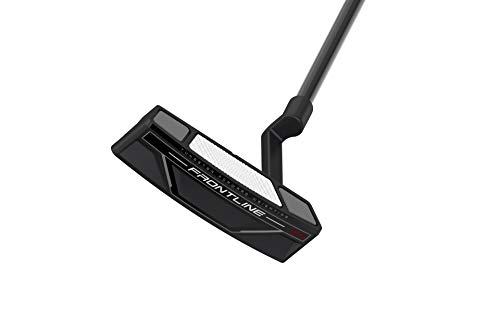 Cleveland Golf Frontline Putter 4.0 35",Black
Forward weights - with tungsten forward weighting and the center of gravity positioned closer to the face, Frontline provides better stability through impact for straighter, more accurate putts.
Speed optimized face Technology - Cleveland proprietary speed optimized face Technology pattern normalizes ball speed across the face, ensuring consistent distance performance on all your putts.
Better aim - achieve perfect alignment on every putt, regardless of where your eyes are at address, with Cleveland's proprietary 2135 technology.
Additional hostel configurations - find a superior fit for your stroke type with two different* hostel configurations to suit every player's needs. Featured on the El EVA Do, cero, and ISO models.
included components: Putter, Headcover
Stroke Type: Slight Arc
Last update on 2023-11-26 / Affiliate links / Images from Amazon Product Advertising API
Consistency and accuracy are one of the biggest problems that golfers face when putting. The Cleveland Frontline 4.0 putter had designed their club for golfers with an arc stroke to solve those issues specifically. It uses a speed-optimized face technology that will normalize the ball speed across the face. In addition, the putter ensures that you get consistency in your distance on putts.
Another unique aspect is their forward weighting composition. It has forward tungsten weighting, which shifts the center of gravity closer to the face. As a result, golfers should experience more accurate and straighter putts.
Bettinardi Golf BB Series – Best to Improve Arc
No products found.
Rather than using inserts, the Bettinardi Golf BB series utilizes optimized face milling. The design was made to offer consistency in long and short putts. In addition, you'll notice a responsive feel at impact.
This putt has an Anser-style head shape which is conducive for better forgiveness. This is especially true for shorter putts that are within 30 feet of the hole. Also, its neck sits at around ¾ shaft offset for better visual cue during the setup and more arc during the putt.
What to Look for When Buying a Putter
Before buying a putter, there are many things to consider:
Weight and Head Shape
Next, you'll want to look at the weight and head shape of each putter. If you're an experienced golfer who doesn't have a problem hitting the sweet spot of a putter, we recommend the blade-style putter since it has the least forgiveness but offers the best control and has a traditional look. For those, who have off-center hits, you need a head shape more forgiving such as a mallet putter. Mallet putters have a larger face; however, they are more suited for golfers with a straight-back straight-through stroke. The high MOI putters are the most forgiving and designed for golfers with an arc stroke.
The weight of the putter varies and should depend on the greens that you're playing on. For example, on slower greens, you'll want a heavier putt. On the other hand, if you're playing on faster greens, we suggest playing with a lighter putter. This allows you to retain the feel of the putter and the greens. For example, if the putter is lighter than you're used to, you may end up hitting the ball too hard, and it passes the hole.
Head Balancing
Always consider the head balancing of each putter. Typically most golfers will need either a toe-hang putter or a face-balanced putter. A toe-hang putter gives you a better opportunity for getting consistency in your arcs. In contrast, a face-balanced putter allows golfers better to maintain a square putter face during the stroke.
Type of Grip
There are hundreds of grip types out there in the market, and the right one usually comes down to personal preference. This means you'll likely have to experiment and test out many grip types. However, there are some basic things to consider about the grip.
A wider grip will separate your hands farther apart on the golf club. As a result, it will reduce wrist hinge or flicking in your stroke. If you use a heavier grip, it gives you the feeling that you're using a lighter head weight. In contrast, a lighter grip provides the sensation of heavy head weight.
Shaft Length
The length of your shaft will enable you to get into a great posture while you're in your putting stance. Depending on your posture, the length will differ. For example, Jack Nicklaus likes a more hunched stance, but others choose to putt while being upright.
A putter's shaft length will depend on your eye position, posture, and arm length. You'll know when the shaft length is correct when your eyes are over or slightly underneath the golf ball when you're standing directly over it.
Other Factors
There are other factors to consider when shopping for putters.
Lie and Loft Angle
The loft and lie angle are factors to account for. Having too little or too much loft may cause you to hit the golf ball too high or too low. As a result, the golf ball may be airborne and throw off the path in which you were aiming for. In general, most putters have a lie angle of 70 degrees and 3 to 5 degrees of loft. The lie angle should ensure that the toe and heel of the putter touch the grass.
Alignment (Target Line)
Ideally, you'll want a putter that has an alignment line, which allows you to align the ball straight on the face. This visually demonstrates whether you're setting up on the heel or the toe.
Whether it's a huge line that covers the entire putter or a small tick mark, it makes a big difference to find the center of the face. Having a target line helps you keep focused on the target and ensures you're set up square to the target.
Putter Face
Although you don't have the ability to change the putter face, you should still know the type of face in each putter. The face can drastically affect your performance and the durability of the putter.
Milled Putters
A milled-style putter face uses one solid piece of steel. This type of putter face doesn't use any inserts and uses stainless and 1018 carbon steel.
The downside is that the milled putters aren't nearly as forgiving as other types. However, they have an aesthetic look and will last a long time.
Insert Putters
The insert putters use multiple material types rather than a single piece of steel like the milled putters. Typically, these insert putters are made from softer materials. They are designed to provide a smoother feel and a better roll on your putts. Good examples of the insert putters are the TaylorMade Spider and Oddysey Two-Ball.
Frequently Asked Questions
What is the right putter length for my height?
Here are some general guidelines you may follow to get the right putter length for your height.
Below 5 feet: less than 32 inches
5 feet to 5'4″: about 33 inches
5'5″ to 5'10": about 34 inches
Over 5'10": 35 inches and more
Should you use a fat grip for your putter?
The grip pressure is another important factor in draining more putts. Ideally, your grip on the putter should feel like a 3 or 4 out of 10. You want to be able to feel the grip; however, it should be firm enough so that you don't rotate the head. A grip that is too tight will affect your stroke, face rotation, and tempo.
What is the best putter for beginners?
There isn't the best putter. The putter should have plenty of forgiveness to deal with mishits. This means you'll want to stay away from old-school putters such as blade-style putters. Also, you want putters with features that help your game, such as a target line, good gripping, and correct shaft length.
What is a stand-alone putter?
Stand-alone putters can stand up on their own without you having to hold them. This is incredibly useful so that you can step back and ensure that everything is in line. As a result, you may see an improvement in your stroke path and accuracy.
Do expensive putters matter?
Most golfers believe you need the most expensive putters to perform well, but that's simply not the case. Ideally, you want to select a putter that has the right lie angle, correct face, and fits your putting style.
Best Putter For Arc Stroke – Final Verdict
There are so many options for putters that you can easily get confused by the claims that manufacturers may put out. However, with our extensive experience and research, we've found that the S7K standing putter is the best value putter for the arc stroke. It stands all by itself, giving you the opportunity to adjust the position for optimal alignment. In addition, its lightweight shaft and stroke balance construction make it easy for you to control and increase acceleration on your putts. With its wide shaped head, it's very forgiving, allowing you to have mishits and still get the ball where you want it.
We hope you found our guide on the best putts for arc stroke helpful, and soon, you'll see your putting performance drastically improve!
Best Putter for Arc Stroke | Our Top 8 Picks
Our top 8 picks of the best putter for arc stroke. Find out which one is right for you!
Product In-Stock: InStock