Golf is a game of precision and accuracy, but the weather does affect how far your ball will go.
While playing golf in the winter does not necessarily pose a threat to any of your equipment, it can affect how far you hit your ball.
The colder it is outside, the less distance you'll get with every swing, so golfers should take this into account when playing in cold conditions.
Golf balls travel farther in warmer temperatures than they do in cooler ones because there's more energy to propel them forward.
So if you're planning on teeing off in the rain or on a particularly cold day, remember to use a ball with lower compression, so you don't sacrifice as much distance.
Why does a golf ball not go as far in cold weather?
There are a few reasons why a golf ball does not go as far in cold weather. Below are the main reasons how cold weather affects a golf ball's distance.
The temperature of the air affects the golf ball's flight
The colder the air is, the denser it is. This makes it harder for the ball to fly through the air.
The denser air creates more drag and normally makes the ball fly higher but not as far.
Cold weather causes a golfer to lose distance as it decreases their swing speed and clubhead speed
When it's cold, your body uses more energy to keep warm. This often means you can't perform as well.
This often leads to a slower swing speed which means you can't hit the ball as far as you would on a warm day.
It's important to wear layers in cold weather so you can stay warm enough to play at your best.
If you don't have enough insulation, this will affect your swing speed and ultimately how far you can hit the ball.
The ball doesn't compress as well in cold weather
The last main reason for this phenomenon has to do with compression rates. When it's cold outside, the compression rates are lower.
This can affect how far you can hit the ball because the transfer of energy is not as efficient as it would be on a warm day.
At what temperature does a golf ball lose distance?
There is no absolute temperature, but there is a rule of thumb golfers use. You can use the below as a guideline to estimate how much distance you will lose with cold weather.
For every 10 degrees (Fahrenheit) drop in temperature, the ball will lose 2 yards of carrying.
Below 40 degrees, the ball speed will decrease, and so will carry distance. You can get anywhere between five to ten yards on your carry distance.
Do low compression golf balls go further in cold weather?
Low compression golf balls are best used in the cold because they are softer and have a better feel at impact.
Low compression balls compress more when it's cold, which provides more potential distance on each shot.
Which golf ball is best in cold weather?
When you're playing in cold weather conditions, a hard golf ball does not travel as far as a softer compression ball.
You want to op with a soft compression ball.
One of the top benefits of using a soft compression ball is that you'll have consistent distance from tee to green even when it's cold outside. 
Many golfers say that their drives feel more effortless because the balls are easier to compress, meaning that the distance is more consistent.
Distance isn't the only benefit to using a soft compression ball.
If you are looking for a good feel off of your tee shot, look for one with great sound and a higher spin-off of your wedges.
Soft compression balls are ideal for cold weather conditions because they have a softer cover that is easier to compress and ignite.
There are a few things you'll want to consider when choosing one:
– Look for golf balls with a thinner cover because these balls will be the easiest to compress and, therefore, the easiest to generate distance.
– If you like a ball with more spin around the green, look for ones that have a softer cover but are designed to resist scuffs.
– You can find high-quality balls that give you a great feel and sound off of the clubface
Below are our top 3 recommendations:
2021 Bridgestone e6 Golf Balls
Sale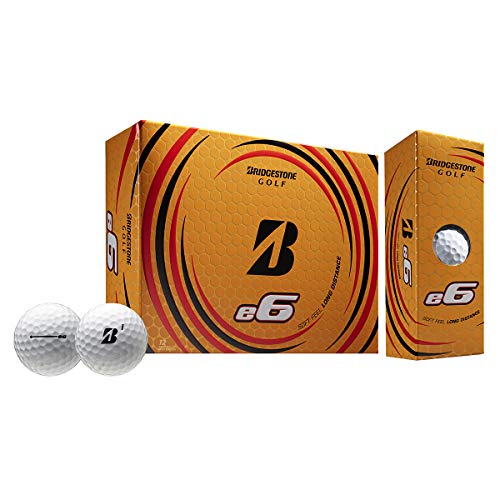 BRIDGESTONE 2021 e6 Golf Balls (One Dozen), White
NEW! e6 is the SOFT FEEL, LONG DISTANCE golf ball
REENGINEERED for MORE POWER and FEEL
MORE POWER – softer and larger core for faster compression and LONGER DISTANCE
MORE FEEL – a soft seamless cover for BETTER SPIN and FEEL
TIGER WOODS, BRYSON DeCHAMBEAU, FRED COUPLES, MATT KUCHAR AND LEXI THOMPSON Proudly represent Bridgestone Golf on international professional tours
#1 Ball Fitter in Golf based on Golf Datatech Survey published September 28, 2021
Last update on 2023-11-26 / Affiliate links / Images from Amazon Product Advertising API
The 2021 Bridgestone e6 golf balls have been given a strong rating for their tee-to-green performance. This means that it will help you hit the ball straighter with every club in your bag, which is always an advantage on any course!
If you are looking to get a ball that's not too high spinning off the tee but will still provide enough distance for your game, then look no further than the Bridgestone e6. I have found this particular golf ball model can go very far when hit straight. It's a great ball for cold weather.
Vice Pro Plus Golf Balls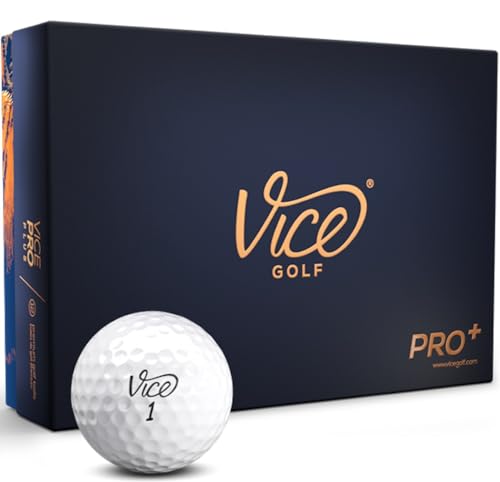 Vice Pro Plus Golf Balls
Optimized For Even Longer Distance
Lower Ball Flight Trajectory
Excellent Green Grabbing Control
4-Piece, 336 Dimple Design
Last update on 2023-11-27 / Affiliate links / Images from Amazon Product Advertising API
"The new Tour Caster Urethane cover is made of strong and durable four-layer balls that will keep your clubs in good shape. Packed with the latest technology, it has fast dual-core construction for ultimate performance!"
The Vice Pro Plus is another great golf ball. If you find yourself in cold weather, it won't turn into a rock-like some other balls do. It does what it needs to and does it well.
Srixon Soft Feel Golf Balls
Srixon Golf Soft Feel 12 TYL, Yellow
FastLayer Core - With a soft center that gradually transitions to a firm outer edge, the FastLayer Core gives SOFT FEEL incredible softness and great distance off the tee.
338 Speed Dimple Pattern - To get more distance overall and better performance in the wind, Speed Dimples reduce drag at launch and increase lift during descent.
Soft, Thin Cover - Provides more greenside spin and softer feel on all pitches, chips and putts.
Included components: No
Last update on 2023-11-27 / Affiliate links / Images from Amazon Product Advertising API
Srixon Soft Feel is the best value for money.
Not only does it feel great at impact, but it is a forgiving ball and easy to control. If you're looking for a softer option that will give control and a great feel, then this is the ball you should try.
Does Cold Weather Affect Golf Ball Distance – Final Thoughts
Golf balls lose distance in cold weather due to a decrease in ball speed.
For your ball to travel further on each shot, you'll want to use a softer compression golf ball.
Higher quality soft compression balls can increase your consistency from tee to green and around the green by having a softer outer layer that does not scuff.
Soft golf balls also provide a better feel at impact, which some golfers prefer over distance.
If you are looking for the best ball to play in cold weather, look no further than one of these golf balls designed with a soft compression cover for increased ball speed.