Putters are arguably the most important club in your bag. That's because putting is the one aspect of the game where you put the ball in the hole and score. But when it comes to putters, the Scotty Cameron putters are priced higher than most putters in the market. 
So the question is, why are Scotty Cameron Putters so expensive? 
In short, the Scotty Cameron Putters are expensive for a few reasons. They're extremely customizable, made from premium materials, and manufactured by a well-known brand. Despite the reasoning for the price tag, you still may not know whether it's worth paying for. 
In this article, we'll tell you whether the Scotty Cameron putter is worth paying for and if it'll improve your game. Let's get started! 
Are Scotty Cameron Putters Worth Collecting? 
The Scotty Cameron is designed for intermediate to advanced players. That's because, for beginners, the putter won't make a significant performance difference that justifies paying for a high-priced putter. 
However, for more advanced golfers who know the benefits of having a great feel for the putter, the Scotty Cameron is worth the money. 
For low handicap players who want to maximize the feel for the putter, the Scotty Cameron putter feels good on the hands. That's because the putter is designed with soft edges to reduce the tension on the hands that golfers feel while putting.
Benefits of Scotty Cameron Putters 
Depending on who you speak to, you may get different answers as to why they chose to purchase these putters. There are a few benefits that the Scotty Cameron putters have going for them. 
Feel 
The putter's feel is often described as how the golfer will feel when holding the putter and when the ball flies off the clubface. 
In general, most golfers prefer their putters to deliver a soft feel while still providing the right amount of inertia to get the ball inside the hole. 
Most people opt to get the Scotty Cameron putters because of their weight and feel. 
These putters have optimal weight distribution because the weight was designed to be distributed evenly among the grip and putter head. Thus, it feels quite balanced from top to bottom. In fact, the manufacturers incorporated a new Tungsten weight to ensure that their putters were perfectly balanced based on the specific putter length. As a result, it has a greater MOI due to the concentration in mass on the heel and toe. 
History
Golf is all about traditions, and Scotty Cameron has a long-standing tradition of producing high-quality clubs. Their rich history and social proof have given many buyers confidence that their putters are top-notch. They've built in partnership with Titleist and have not looked back since. 
In fact, many leading professional golfers have used the Scotty Cameron putters such as Tiger Woods, Rory McIlroy, Jason Dufner, Sergio Garcia, Mark O'Meara, Peter Jacobsen, Jordan Spieth, Adam Scott, Brooks Koepa, and Justin Thomas. 
Technology 
Scott Cameron has been innovative in the research and development of its products. They often receive feedback from professionals about their product, thus improving upon their design and technology. 
Some of their technology has to do with improving balance and stability, the moment of inertia, accuracy, adjustable weighting, and perimeter weighting. The goal of the technologies is to satisfy the variety of preferences, styles, and strokes of golfers. 
For example, on their Select Line, they offer a unique technology called Face Inlays. It's designed to provide responsive feedback and feel. Many golfers have described this technology to offer a "soft but solid" feel. For blade putters, they've added stainless steel inlays, while mallet putters have aluminum inlays. As a result, their putters have a better feel and sound. Also, the inlays are wrapped around the sole rather than distracting the player's view at the address, as most face inserts do. 
Customization 
One of the main reasons that golfers buy the Scotty Cameron putters is their customization. Many advanced golfers like to purchase clubs that match their personality and game. 
The Scotty Cameron shop lets customers send custom designs of colors and visuals so that the manufacturer can create them for them. Simply send the designs, and they'll make a custom-designed and custom-fit putter for you! Furthermore, they can restore your old Scotty Cameron putters as well. 
Many golfers like to add their name, hand-stamped characters, initials, and paint color to their putter. It takes about 20 days to have the putter customized and 120 days to have them restored. 
Is it Worth Buying an Expensive Putter?
Yes, expensive putters are worth the money, especially if they provide superior performance or build quality. That's because putting is such a crucial aspect of the game that any little advantage in feel, alignment, or forgiveness can help. In addition, premium quality putters can last longer, which prevents you from having to buy another putter in the future. 
However, don't think that buying an expensive putter will turn you into a golf pro right away. These expensive putters likely will only give you a slight but noticeable advantage. But you'll want to find putters that allow you to perform your best consistently. 
Since there are many expensive putters in the market, you need to find those that can improve your game. For example, look for expensive putters that offer excellent forgiveness on off-center hits or better stability. Some golfers will buy expensive putters because they look fancier than the basic models. 
Again, if you're a beginner, you can likely find an affordable putter that can offer game-improvement characteristics without paying top-dollar. However, if you're a mid or low handicap player, you may want to get every advantage from your equipment; thus, investing in an expensive putter is worth it. 
Are Scotty Cameron Putters Forgiving? 
Although the Scotty Cameron's are designed for forgiveness, it can be particularly beneficial to golfers who hit near the sweet spot. 
That's because the weight distribution of the putter increases the sweet spot radius so that any slight mishit will be forgiven.
However, since Scotty Cameron sells many models, it really depends on which model you purchase. That's because some of their putters will be more forgiving than others. 
In order to know whether a putter is forgiving, you'll need to know the characteristics that increase forgiveness in a putter. Putters with high forgiveness typically have a mallet design. This is due to their larger clubhead, meaning there is a bigger sweet spot. 
The clubface weight is heavier, so the weight is distributed more towards the bottom, which can stabilize your golf stroke. Furthermore, they offer perimeter weighting on the clubhead for better balance than blade-style putters. Mallet-style putters tend to have alignment aids to help golfers improve their aim and accuracy during the putt. 
For example, the Scotty Cameron Phantom X 11.5 has a wingback mallet design to provide additional stability for the putting stroke. It's one of the best putters in the market for golfers with an arc-style stroke. The putter is designed with a low bend shaft that delivers stability and toe flow. 
What are the Best Scotty Cameron Putters in the Market? 
Scotty Cameron is known for its premium-built golf clubs and excellent performance. That's why many 
pro golfers still actively use their putters. 
Here is the list of the best Scotty Cameron putters in the market and the reasons that make them a good buy:
Scotty Cameron Phantom X 11.5 Putter: 
Premium craftsmanship
Offers plenty of alignment aids and forgiveness across the clubface 
Titleist Scotty Cameron Futura 6M Putter: 
Removable weights
Large mallet putter
Three alignment aids 
Titleist Scotty Cameron Select 2018 Putter:
Sleek and bright stainless steel silver design 
Flowing single bend style neck
Edges rounded to help with address
Scotty Cameron Newport 2:
The midsize grip of the putter adds a good feel
Made with 303 stainless steel for durability
Customizable 
Scotty Cameron Phantom X 8.5 Putter:
The clubhead is positioned low to the ground
Easy alignment
Visually appealing clubhead design
Better toe flow and increase hang
Scotty Cameron Putter Alternatives 
Of course, Scotty Camerons aren't the only option available in the market. There are dozens of other putter brands to choose from. We've listed three of our favorite alternatives that provide performance benefits while maintaining a premium build quality. 
Callaway Odyssey Golf 2021 Ten Putter (Right-Handed, 2 Ball Triple Track, Oversized Grip, 35") , Black
The new Odyssey Ten Putters dramatically enhance the Ten shape that's incredibly popular on Tour and with golfers.
These new shapes are sleeker, more forgiving, and now you can choose from impressive options in 2-Ball or Triple Track to help improve your alignment.
In fact, this is Odysseys' best 2-Ball shape ever.
Odyssey's proprietary major-winning, multi-material Stroke Lab shaft is now even better. This shaft is seven grams lighter overall, it's stiffer and it's more stable to enhance consistency in your putting stroke.
This high-performance insert is packed with Microhinge technology, promoting immediate forward roll for improved speed and control.
Last update on 2023-09-11 / Affiliate links / Images from Amazon Product Advertising API
The Odyssey Ten Putter is perhaps one of the best beginner putters out there. This putter is forgiving across the clubface, easy to roll,, and incredibly lightweight. 
Furthermore, it offers useful alignment tools that aid in lining up the ball to the hole. Furthermore, these aids help to ensure that the Face is squared up with the ball. 
Since the putter has a mallet design, it has quite a large clubhead and Face. Not to mention, the weighting is geared towards the bottom. The feel is nice and soft, which helps build confidence in golfers on the greens. 
Additionally, the Odyssey Ten Putter is available with their Triple Track alignment, ideal for Callaway Triple Trackballs. 
Pros:
Extremely stable off-center
Very easy to line up 
Forgiving across the clubface 
Cons:
It isn't designed for arc stroke putters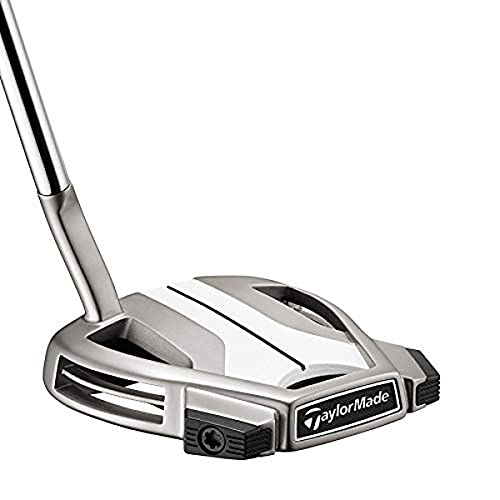 TaylorMade Spider X Putter Right Hand Steel HydroBlast Flowneck (#9) 35"
Multi-Material Design. Engineered with premium materials for exceptional performance. The use of a combination of materials to create maximum stability.
White True Path. The science of white. White is the most reflected color which allows the human eye to clearly see the ball path. The "Y" design shape allows for all golfers to center the ball and clearly visualize the path to the hole.
Head Shape. The Spider X head shape is more streamlined than the Spider Tour and is the most successful Spider ever sold.
White TPU Pure Roll insert for softer feel. The Pure Roll grooves are at a 45° angle encourages optimal forward roll as well as better sound, feel and overall roll characteristics.
Last update on 2023-09-11 / Affiliate links / Images from Amazon Product Advertising API
TaylorMade Spider X Putter offers a few game-improvement qualities that make it a viable choice for golfers of all levels. It offers a new True Path system with reflective white dots to make it easier to aim. These three white dots are positioned between the dual-rail to help you keep the face square at impact and line up the ball with ease. 
It's also quite forgiving, allowing you to have some mishits and still be effective on the greens. That's because it's built with a carbon composite head and aluminum frame to boost the MOI, which provides a more consistent roll. 
Furthermore, the Spider X Putter has a fluted feel shaft to offer a comfortable feel when gripping and hitting the ball. It features a Pure Roll insert for a softer touch when striking. 
Pros:
Available in three color options: white, silver, and blue 
Offers alignment aids to improve accuracy on putts 
Forgiveness helps beginners to hit putts straight despite mishits 
Cons:
The all-white option can be easily scuffed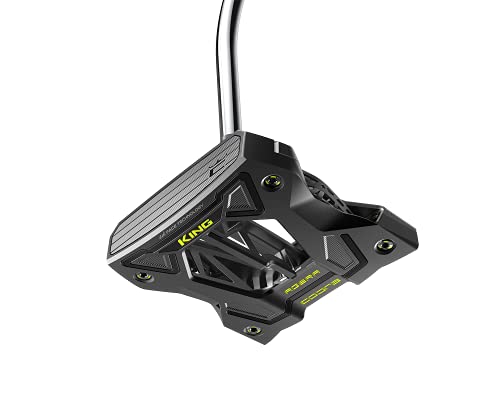 Cobra Golf 2021 King 3D Printed Agera Putter (Men's Right Hand 35 Inch) Black
3D Printed Nylon Insert-An intricate 3D printed nylon lattice structure optimizes the weight distribution within the putter head to create the highest MOI possible in a blade shape for maximum stability
Multi Material Construction-An Oversize blade shape combines 3D printed nylon lattice insert, a 284g steel frame, a 22g aluminum cap, and 30g of tungsten in the heel and toe to provide the highest MOI for maximum stability
Sik Aluminum Face Insert-An aluminum face insert features SIK Golf proprietary Descending Loft Technology, which utilizes 4 descending lofts to ensure the most consistent and accurate roll for every style of putting stroke
Cobra Connect Grip-Each Putter is equipped with a Lamkin Smart Grip which features and embedded sensor that syncs to your smart device, Using Arcos Caddie app, users can track their putting stats and improve faster
Last update on 2023-09-11 / Affiliate links / Images from Amazon Product Advertising API
There are very few putters out there in this price range that are more forgiving than the Cobra King 3D Putter. Due to the level of stability and design for the clubhead, you barely feel a thing when it strikes the ball. 
As a result, golfers will gain excellent and consistent distance control, especially for long-range putts. This means the number of putts you have per round and score should improve. 
Pros:
Soft feel
Consistent distance on putts 
Extremely forgiving no matter the size you choose 
Cons:
It is designed with an unusual shape which isn't aesthetically appealing for some golfers 
Conclusion 
Scotty Cameron offers unique putters that stand out due to their prestige and brand recognition. Over time they have developed a strong brand loyalty with their customers. 
To the average joe, they may seem overly priced, and rightfully so. However, now you know why the Scotty Cameron putters are expensive and why the price can be justified. But ultimately, the decision is yours. 
We've given you all the reasons that make their putters a worthwhile purchase. Additionally, we've also provided some great alternatives to these putters, especially if you want similar build quality and game improvement characteristics at an affordable cost. Hopefully, you've found our article insightful!