It's important to know which golf tees to use when you are playing a round of golf. If you don't have the right style, it can make the game harder than it needs to be. 
Most of us are familiar with ordinary golf tees; these slim, wooden posts, which are generally supplied by the thousands, aren't complicated. However, many golfers are unaware that there are numerous factors to consider before selecting which tees would best suit your driver.
Some golfers use their creativity to put a touch of individuality in their game. Golf tees, used for teeing off at the beginning of each hole, are now designed with intricate patterns or designs to identify them and make them stand out from other players' sets.
If your favorite sport had changed as much as buying golf tees has over recent years then imagine how hard it would be trying to choose what equipment will work best for you. Nowadays, every single golfer can find something that suits him/herself because so many options exist, but that too also became a struggle. In this article, we will talk about how to narrow your choices in terms of choosing the right golf tee.
Golf Tee Lengths
A golf tee is limited to the length of 4 inches. Most tees are within a range from 2 ¼ and up to 4 inches, but most commonly used ones vary between 2 ¾ and 3 ½.
In the end, the length of the tee you play is a matter of personal choice and playing style. Shorter tees are more likely to enhance accuracy, while longer tees provide greater distance.
Types of Material Used in Golf Tees
Wood
Last update on 2023-09-17 / Affiliate links / Images from Amazon Product Advertising API
The most popular tee's are made of wood. If you have a habit of breaking a lot of tees, the hardwood tee may be the ideal alternative because it is the most cost-effective. Tees made of bamboo have been launched. They are a little more expensive, but they are better for the environment.
Bamboo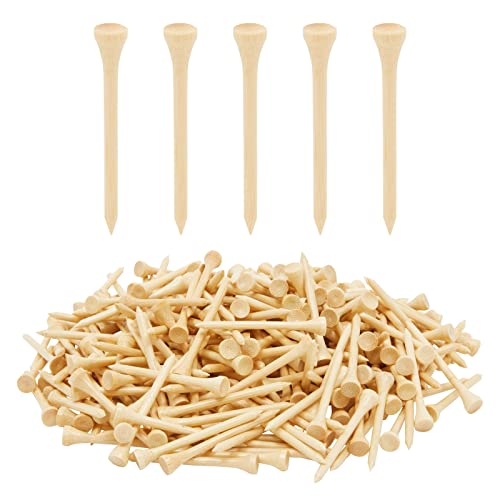 Juvale 300 Pack Bamboo Golf Tees in Bulk (2 3/4 inch, Natural Wood Color)
Bamboo Golf Tees 2 3/4: Always stay prepared to tee off, and never worry about losing your game or not having enough golf equipment with this bulk set of bamboo wood tees
Great for Sports: These long wood golf tees are great for golf tournaments, sports competitions, country clubs, golf club courses, or to have in hand when playing a few rounds with friends
Durable Quality: Made from durable and natural bamboo, these wooden tees are made to be long-lasting and feature a specific tensile strength that won't scratch your field
The Perfect Size: Each of the tall golf tees measures 2.75 inches long, and the head measures 0.4 inches in diameter; place your golf ball on top of the tee to hold it in place
What's Included: You will receive 300 bamboo wood bulk golf tees, ensuring you always have one in hand when you need it when golfing with your friends at the golf course
Last update on 2023-09-17 / Affiliate links / Images from Amazon Product Advertising API
Bamboo is becoming increasingly popular in a variety of sectors, including construction and building. It's no wonder that they're becoming more popular for golf tees because they're more durable than hardwood tees. Bamboo is very easy to cultivate and harvest, as well as being more environmentally friendly and less expensive than hardwood tees.
Plastic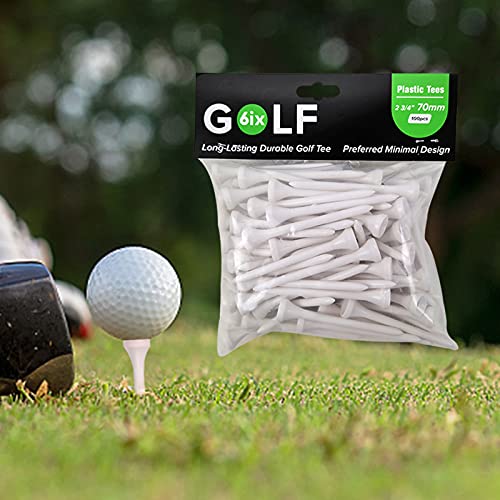 JMLGOLF GOLF6iX Premium White Plastic Golf Tees Bulk Pack 100pcs, Professional Durable Golf Tees 2 3/4 Inch (70mm), High Performance Golf Sports Tool Accessory, Unbreakable Golf Tees
[HIGH QUALITY STURDY MATERIAL]These professional Golf Tees are durable and biodegradable, made of premium quality plastic material that is much stronger and long lasting than old wood tees, lightweight and easy to carry, one tee can be reused for dozens of times and are designed to withstand some of the biggest hitters.
[LONGER, STRAIGHTER RIDE]Our horn tees give you longer, straighter rides compared to wood tees and the design provides firm stabilityand durable than other tees.It has a low-resistance tip for less frictionGreat for indoor and outdoor golf practice, nice equipment's for golf lovers.
[PREFERRED MINIMAL DESIGN] Rot-resistant and UV fade-resistant, meaning it will remain strongand good lookingthrough the toughest of conditions! They come in simple white color design which help enhance the player performance due to the distraction free minimal design.
[BULK PACK] 100 pcs white plastic golf tees,length is 70mm /2.8 inch. Features a reinforced rib on the shaft that add extra durability and resistance for a smoother play.
[100% SATISFACTION GUARANTEE] You are protected with our 100% No Questions Asked Guarantee for either a replacement or refund. We love our customers, that's why we care about only putting out high quality products that satisfies your needs.
Last update on 2023-09-17 / Affiliate links / Images from Amazon Product Advertising API
Plastic has become an accepted material for golf balls in the last few decades, despite not being environmentally friendly or biodegradable. What most people don't realize is that plastic offers many advantages other materials like glass and steel cannot offer: durability due to its flexibility when stressed instead of shattering into pieces, reduced friction from its slick surface which allows a smoother roll on impact with the ball, and lower price point than more expensive alternatives.
Rubber Tees
YATTA GOLF Telos Premium Golf Tees – Adjustable Golf Tees – Tee Off with Greater Consistency and Shoot Better Scores - Unbreakable Golf Tees – Lasts The Average Golfer A Season (Ice Blue)
Greater Consistency. Better Scores. – Telos Tee's quick & easy adjustable height will enable you to drive consistency by eliminating one of the big variables that go into teeing off. Just: (1) set disc at right height for you and your club (2) stick tee in ground (3) start playing like the real you again 🙂 (4) repeat. Tee off at the same exact height every time. You will love the added consistency that Telos adjustable golf tees bring to your game.
Virtually Unbreakable – Our premium golf tees plastic are built with an impact-modified polymer to ensure maximum durability. One pack of three Telos Tees lasts the average golfer a season. These are some of the most unbreakable golf tees on the market.
Never Lose a Tee Again – The disc used for height adjustability also doubles to keep the golf tee in the ground when you swing so you never misplace it. Depending on the tee box conditions and your swing, the golf tee may still come out on occasion, but the high-contrast colors make the tee extremely visible and virtually impossible to lose.
3 ¼ Inches. USGA Rule Conforming – Telos Tees are tournament legal for any events using the USGA or R&A rules.
Premium Plastic Golf Tees – Made by Yatta Golf and designed in Utah. Each pack comes with three tees, three adjustable discs, and the consistency you need to make this your greatest season yet.
Last update on 2023-09-17 / Affiliate links / Images from Amazon Product Advertising API
Rubber tee balls haven't been popular before due to their unappealing price tag, yet these durable golf accessories have a higher success rate than other types of materials do in the end.
Commonly Used Golf Tee Styles
Standard Tees
The standard tee is the most often used tee by golfers of all levels, including professionals, and is made mostly of wood with a diameter ranging from 14 inches to 4 inches. They're simple in design and performance, and they're lawful to use in competition.
Anti-slice Tees
The slicing, when the ball starts out straight and bends abruptly to the right, is the most common flaw in a golfer's swing, especially among novices. When utilizing a driver off the tee, this is exacerbated, resulting in a loss of distance.
Manufacturers have taken on the task of creating a tee that would help to mitigate the slicing to some level. As a result, a standard tee was created, with a cup at the rear to support the ball once it was placed on the tee. When the club makes contact with the flap, the sidespin that generates the slice is substantially reduced. Competition play does not allow for this.
Brush Tees
Sale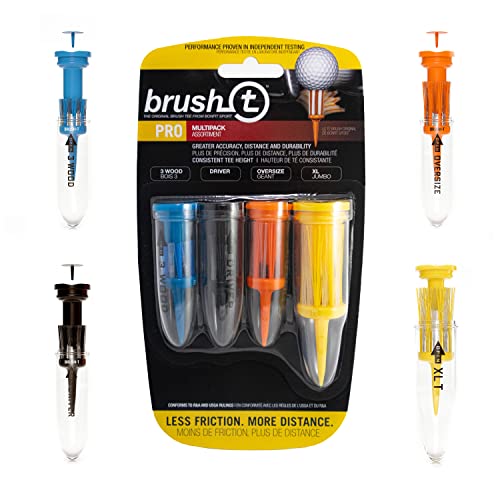 BRUSH T Premium Plastic Golf Tees, Unbreakable Innovative Design, Consistent Height, Perfect Golf Gift for Men and Women. Multiple sizes 2", 2.2", 2.4", 3 1/8" - 4 Pack (3 Wood, Driver, Oversize, XLT)
DRIVE FARTHER STRAIGHTER AND LONGER Bonfit's Brush-T is an innovative golf tee that's been proven to improve your golf drive. Independent testing has proven increased performance translating to consistently better drives
LESS FRICTION SYNTHETIC BRISTLES Brush-T is a patented design that uses synthetic bristles to cradle the golf ball perfectly every time The bristles allow your golf swing to be free of any variables and feel nearly frictionless for longer, straighter drives
DURABLE PLASTIC GOLF TEE Every Brush-T is made using premium plastic that's virtually unbreakable. Hitting the golf ball off synthetic bristles greatly reduces any risk of breaking the golf tee
MORE CONSISTENCY TEEING OFF Consistency is key to a quality golf swing. The Brush-T base is inserted into the ground at the same height every time Forget worrying about inconsistent tee height and focus on your swing instead
USGA RULE CONFORMING GOLF TEES Think the Brush-T constitutes an unfair advantage? It doesn't The Brush-T is permitted under the USGA Rules of Golf Find the official documentation on our website
Last update on 2023-09-17 / Affiliate links / Images from Amazon Product Advertising API
This is a type of tee that comes with plastic grips on the bottom and bristles that act as ball retainers. The brush offers an easier way to shoot golf balls, which increases distance because friction is reduced while in contact with the ground.
Zero Friction Tees
Sale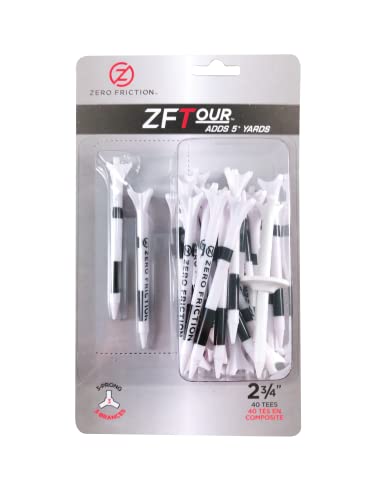 Zero Friction Tour 3-Prong Golf Tees (2-3/4 Inch, White, Pack of 40)
The ZFTour Hybrid is great for Par 3's.
Established as the No. 1 Performance Tee on the PGA TOUR in 2005 and has stayed there since with over 70 TOUR victories and 370 top ten finishes.
Every package comes with a bonus Zero Friction item.
Place one prong at the target for optimum performance.
A product made with bio-composite materials.
Last update on 2023-09-17 / Affiliate links / Images from Amazon Product Advertising API
These tees have a form that is very similar to standard tees, with the exception that the top has between 3 and 6 columns on which the ball rests, reducing the contact area with the ball. As a result, there is less friction and a greater range of movement.
Specialty Tees
Different golf tees are made for different purposes, with some more specialized than others. For example, the hybrid tee is designed to be used with a type of club typically reserved only for use on short courses or in areas where there aren't many obstacles; it's useful as its height can be adjusted so that even those who struggle to tap the ball high enough off the ground have an easier time. Similarly, adjustable tees also come in handy when you want your swing height just right but don't happen to carry around multiple sizes — they're great because their height adjusts accordingly based on how much pressure you apply during play!
How to Pick the Right Golf Tee
Consider the type of material
The different types of materials used in golf tees are already discussed above, so it's worth considering which would be the best for your needs. Do you want something durable like plastic or rubber or a more environmentally-friendly material like wood or bamboo? Or are you looking for a tee that has an appealing price point and high success rate with shots but doesn't offer as much in terms of functionality as some other materials might?
Consider functionality
Functionality is one thing worth considering when choosing a golf tee — which materials offer which benefits? The best type of tee to purchase is the one that offers all the features you are looking for in a golf accessory.
Consider the length
the golf tee's length will affect your overall play in a number of ways, which is why it's important to keep this in mind when you go shopping. Some sporting goods stores sell golf tees that are already cut down to the perfect length for your swing, which makes things much easier on you!
Determine how far you want to hit the ball
Different types of golf tees offer different functions, and one of it is the distance which can be hit. For example, a tee that is made from rubber and silicone has the ability to compress which will allow you to generate more power for your swing, giving you better accuracy and greater distances on average!
Consider what type of terrain you'll be playing in
Different types of golf tees have different benefits depending on whether you're playing in wet or dry conditions. For example, if you are playing, then a tee that is made of rubber and silicone will be the best option as these surfaces do not absorb water which allows them to maintain their integrity for longer periods of time on course.
Consider how often it gets used
The frequency with which golf tees get used is a factor that will affect which type is ultimately chosen. If you are an avid golfer, it's worth buying higher quality golf tees that don't wear out quickly as well as being environmentally friendly to help keep the environment in good shape while also minimizing waste by using up fewer resources and materials than lower quality products might use!
Use tees made with recycled materials for an eco-friendly green option 
If you are a golfer and deeply cares for the environment at the same time, then the wooden/bamboo tees are the perfect option for you which offers a sustainable and environmentally friendly alternative to the plastic or rubber tees that are made from non-renewable materials.
Which Golf Tees To Use – Final Words
There are many considerations that go into which golf tees to use for different purposes, with some more specialized than others.
Choosing the right golf tee for your game can be a tricky task. You need to take into consideration a variety of factors, including length, flexibility, and material. With so many options out there, it may seem difficult to choose which one is best suited for you but never fear!